Jewelry Business Insight
Did You Know That Dale Earnhardt Jr. is Afraid of Jewelry?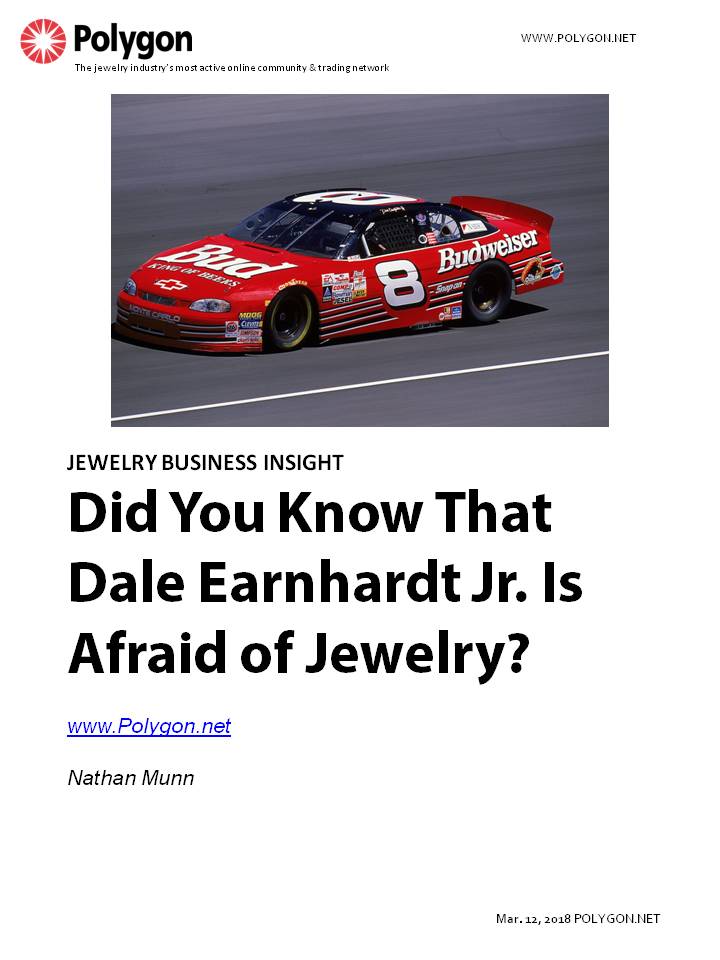 You would expect that someone who drives state-of-the-art racecars for a living wouldn't be afraid of much. But Dale Earnhardt Jr., a living legend on the NASCAR circuit, has an intense phobia of something that might surprise you: metal jewelry.
In a recent episode of his podcast Earnhardt explained how he suffers from kosmemophobia, a serious fear of jewelry, in particular metal jewelry. The condition is debilitating enough that it led Earnhardt and his wife Amy to partner with Qalo, a company that makes specialized silicon rings that look and feel like high-quality rubber, to design a wedding ring for Earnhardt.
"My wedding ring is actually a wooden ring. I don't want to wear that too much because it could get scratched or broken, so I wear Qalo rings… They're very comfortable," Earnhardt explained. Qalo is one of several companies that create rings and other jewelry out of unconventional materials.
Non-metal rings are increasingly popular with consumers, particularly among those who have skin sensitivities or other conditions that preclude them from wearing metal. Case in point: Handcrafted wooden ring company Northwood came into being after one of the founders became allergic to her wedding band; her husband crafter a wooden ring for her and the company was born.
Jewelry by Johan sells beautiful ceramic rings made from titanium carbide, while Zales and other retailers sell rings made from tungsten and carbon fiber. Tungsten is a popular choice of ring material because it is hypoallergenic (except for those with nickel allergies), is scratch-resistant and affordable.
But tungsten also has downsides. Tungsten rings cannot be sized; they can feel heavy on the finger; and they can shatter if a lot of force is applied to them.
Leaving the pros and cons of particular materials aside, unconventional rings are becoming part of mainstream jewelry retailing as young customers choose rings that are less expressions of luxury, and more practical symbols of commitment or personal beliefs.
This shouldn't be surprising, considering that today's young customers are more likely to see fine jewelry as an investment rather than a luxury item. It makes sense that younger customers are choosing to wear jewelry that has no association with perceived monetary value: these customers, if gifted diamond earrings, might be more likely to lock them away as a store of value rather than to flaunt them at a party.
As Americans spend less on weddings and engagement rings than ever before, unconventional rings also offer an attractive price point that allows newlyweds to declare their commitment to each other without putting themselves deeply in debt. Frugality, originality, beauty and value are all on offer with unconventional rings, an offer that can be hard to pass up.
Nathan Munn | Polygon.net