Vetted & Secure

1-Stop Shop

Neutral & Non-Biased

No commissions
or transaction fees
Why Polygon?
Find out why jewelry trade members choose Polygon over other B2B networks.

DiamondsSource from over 1M+ natural & lab grown diamonds from vetted suppliers.

Product DatabasesGain access to the largest selection of gemstones, fine jewelry, and luxury watches.

B2B MarketplaceEfficiently buy & sell using our private trade-only marketplace.

CommunityConnect with other members using our trade directory forums, and social groups.

Diamond AuctionsQuick & effective single stone auctions for the trade hold every two weeks.

Trade EventsBuy, sell, learn and develop long-term business relationships with other forward-thinking jewelry professionals.

Reports & PricingGet up to date information about the gem & jewelry industry as well as access to true wholesale prices.

Virtual InventoryShowcase inventory available on Polygon directly on your website without increasing your inventory costs.
Download the New 'Polygon Jewelers' app!
Easily buy and sell all in one place: diamonds, jewelry, colored stones, watches, estate pieces, OTC, and more. Setup alerts and never miss out on hot deals & daily wanted requests from qualified buyers & sellers.
Join Now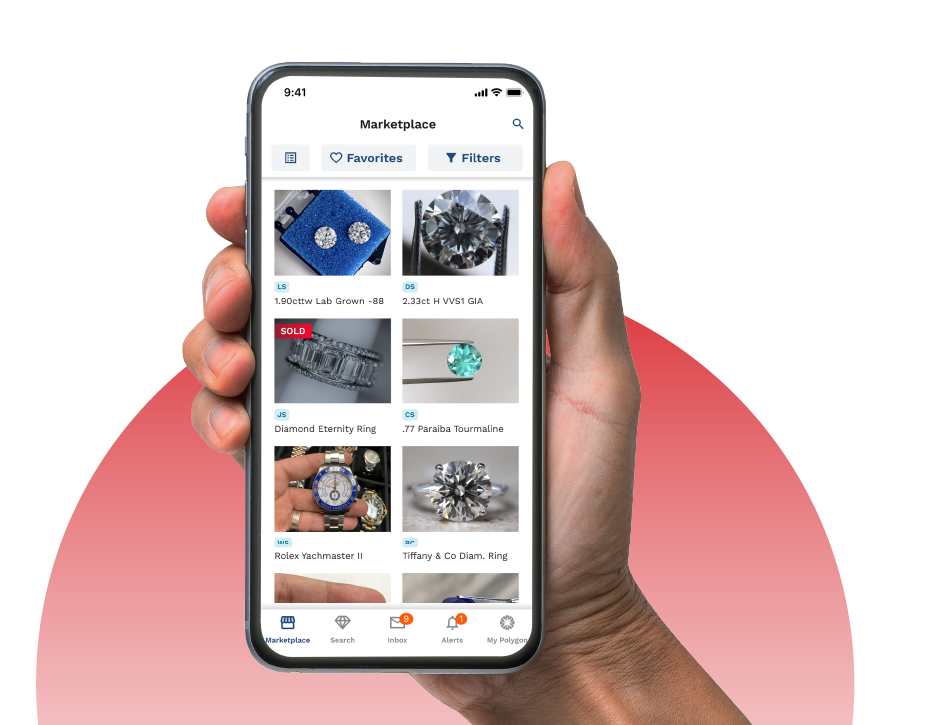 What our members say

I strongly suggest you sign up to experience everything membership has to offer and to learn if it's as right for you as it was for me. 

MAURY KAUFFMAN, RETAIL JEWELER, MKPJ Inc., Tucson, AZ
Member since 2017