Start buying more OTC with myAuction™ today
myAuction™ is a new way for retailers to buy goods over the counter (OTC) and sell back to the trade.
Customers can add diamonds & jewelry they want to sell to a live B2B auction, track the bids on your website, and decide to accept or reject the highest offer. Buyer info is anonymous, and your commission is built into the offers.
Polygon members access auctions directly through the member portal.
Features

Increase Revenues
Earn a commission for every item sold

Buy More Off the Streets
Accept any type of diamond jewelry and ensure your customers get the best prices

Guaranteed Transactions
Once your customer accepts the highest bid, the sale is guaranteed and payment processed

Enhance Customer Service
Give your customers more reasons to seek you out and come in to buy or sell

Flexible Commissions & Store Credit
Choose to pay your customers or let us do it, or offer store credit as a payment option

Build Website Traffic
The free plug-in is added to your website, where your customers log in to access the auction
How it Works
A 3-day online Auction is held every 2 weeks, starting on Monday and ending on Wednesday.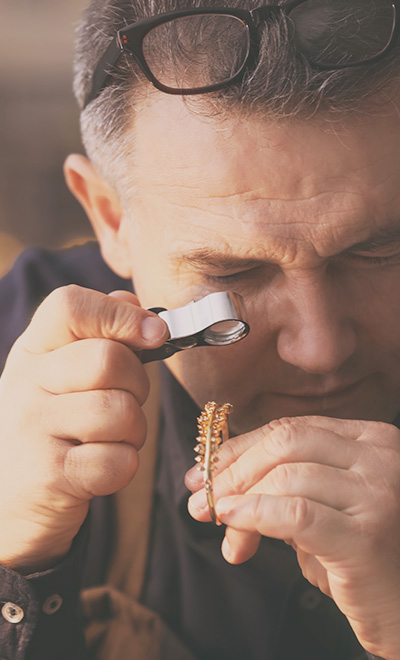 We embed a white label auction plug-in on your website – built to match your branding.

You accept diamonds & diamond jewelry from your customers on consignment for auction.

You ship items to Hoover & Strong's Harmony Diamond Auction Facility.

We run a 3-day online auction for the trade – 100s of qualified buyers bid.

Your customers log in to the auction on your website to review & accept the highest bid.

Your customers receive payment & you get a commission for every item sold.
What Our Clients are Saying
"
I was pleasantly surprised to receive bids higher than dealers had offered me, in particular with a diamond that was deemed not as marketable at the moment, namely a princess cut. The whole process with Harmony auctions is pretty easy and seamless and when I had questions, I was able to get assistance when I needed it. Selling diamonds through Harmony auctions is a no brainer and I plan on using them next time.
Sherry Frantz
CEO, Frantz Diamonds, Roanoke, VA
Member Since 1997
FAQs
We've got answers
How much does it cost?
The service is FREE! This includes the plug-in, training and service. You will be responsible for shipping fees for any items sent to and from auction.
How are payments processed & how long does it take?
Payments are processed immediately after the auction ends. We offer both check and wire payments, which can be sent to you or your customer directly. Your commission will be sent within 7 business days of auction closing.
What if an item doesn't sell?
When an auction ends, we ship all unsold items back to your store so you can return the items to your customers.
Does my customer have to sell his/her item to the highest bidder?
No, your customer does not have to accept the highest bid and can choose to have his stone sent back to your location.
I'm already buying OTC goods – can I still benefit from this service?
Yes! While you can make offers on any items your customers bring in, not all of them are accepted. You can offer the auction service as an option in these cases. You may also not want to outlay the money for some goods; instead, take them on consignment, and let other buyers pay for them. You earn a commission on everything that sells.
I don't buy / am not comfortable buying OTC – can I still benefit from this service?
Yes! You don't need to know how to buy goods or what they might be worth. Take goods on consignment from your customers and enter them to auction to allow professional buyers to bid. Your customers have full transparency on bids and control over whether or not they accept the goods. You don't have to outlay any money to buy the item, and you get a commission for everything that sells.
How long will it take to embed myAuction onto my website?
Once the service order is submitted, it takes about 5-7 business days to complete.
What if I don't have a website and would like the myAuction service?
We can offer you a generic landing page for your customers to use to log into the auction platform.
How often are the auctions held?
Auctions are held every two weeks, as holidays permit, and last 3 days. Auctions start on Monday and end on Wednesday. The submission deadline is the Thursday before the auction starts.
What jewelry items can be submitted for auction?
Any loose diamonds or jewelry item with a center diamond larger than 0.40ct can be submitted for auction. Any other precious metal item, regardless of its stone content, can be submitted to Hoover & Strong for a direct purchase offer.
What do you do with the jewelry that comes in for auction?
As soon as the items are delivered, we inspect and verify the content. Any discrepancy between the packing slip and the actual merchandise received is reported through the auction platform through which your customer receives an immediate notification. Thereafter, we thoroughly inspect, photograph, grade and catalog the item in the auction platform in preparation for auction.
Are the jewelry items insured?
All jewelry items are fully insured up to the value stated in the packing slip while in our facility and until delivery to the buyer or back to your store. While in transit to our facility, the jewelry items are fully insured provided the shipping label has been processed through the platform.
How long does the auction process take?
Auctions will normally begin the first and third Monday of every month at 2:00pm EST and will end on Wednesday at 02:00pm EST. The auction submission deadline is the Thursday prior to auction start, so the entire process takes about 7 days.
Who runs the auctions?
Polygon partners with Hoover & Strong, who runs the auctions. Goods are shipped to Hoover & Strong's diamond auction department, where they are inspected, photographed and added to the auction by certified gemmologists. Live auctions are accessible on the Polygon member portal, or through Hoover & Strong's auction portal.
Learn more about Online auction plug-in & service for retail jewelers
Download myAuction™ Document