Jewelry Business Insight
Study: U.S. Wedding and Engagement Ring Spending Dropped in 2017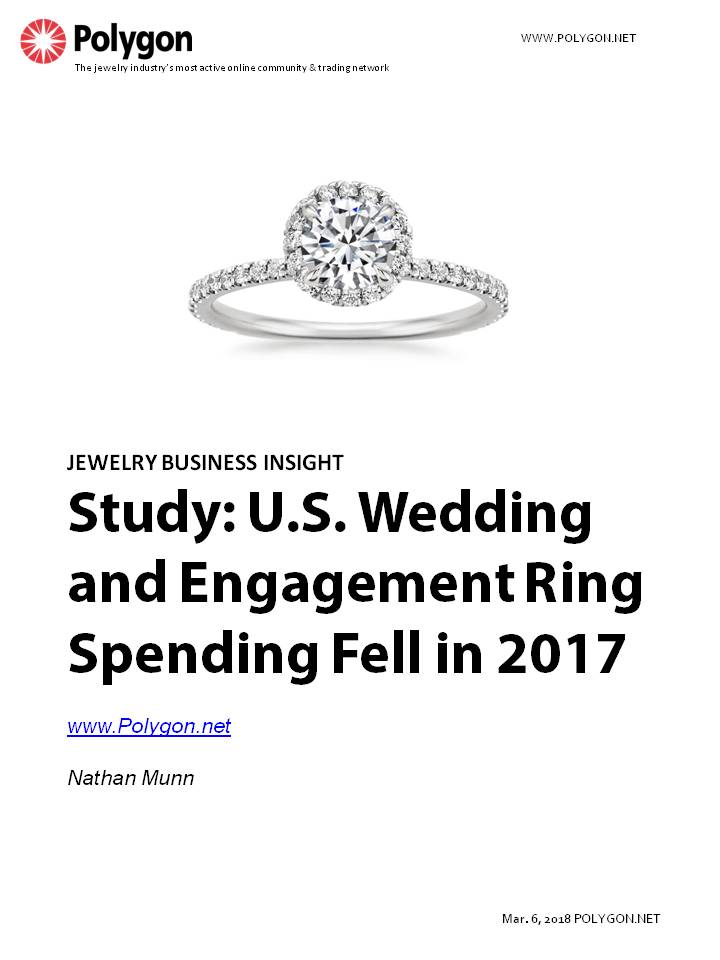 In 2017, U.S. couples spent less on their weddings on average than they did the year before, according to a survey produced by wedding planning website The Knot.
Last year, the average cost of a wedding – which typically includes renting a venue, catering and gifts for guests – fell to $33,391, a 5 percent decline from 2016. It marks the first time in the survey's 11-year history that The Knot observed a drop in wedding spending year-over-year.
The average amount spent on engagement rings also fell in 2017 relative to 2016. Customers spent an average of $5764 on their engagement rings in 2017 compared with $6163 in 2016, a drop of 6 percent.
Despite the findings, The Knot found that even though couples are spending less on their weddings overall, the average amount spent per wedding guest increased to $268 in 2017, up from $194 in 2009.
This increase in per-guest spending suggests that couples are spending more on aspects of their wedding that enhance the experience for their guests, such as catering and entertainment.
The study also found that the costs of weddings are unevenly distributed between the bride and groom's families: According to the study, a bride's parents cover an average of 44.5 percent of the cost of a wedding, while the couple covers an average of 41 percent. The groom's parents contribute an average of only 12.7 percent to the total cost of a wedding.
New Trends in Weddings
According to some industry experts, many couples today are increasingly focused on delivering an unforgettable experience for their friends and family during their wedding. Some couples are choosing to spend less on the wedding venue in order to be able to provide amenities such as luxurious accommodations, high-end catering or entertainment for their guests.
Photo booths are a popular way for couples to involve their guests in the fun. A photo booth can take the form of a classic booth style (like you used to see in malls and train stations), or involve a simpler setup, such as a tripod-mounted camera and simple backdrop that guests can operate themselves.
Room blocks allow a couple to arrange for a "block" of rooms to be available for their guests, who can choose to stay in the rooms overnight if they want to stay beyond the reception. It's a convenient way to keep the festivities going and is a great courtesy for guests, especially those who have come from out of town.
Getaways are for the couples who want to whisk themselves and their guests off to a distant locale to celebrate their nuptials. While it is common for guests to pay their own airfare and accommodation costs, some couples arrange for group discounts on accommodations to lower costs for friends and family. Turning a wedding into a weeklong vacation isn't for everyone, but the option is appealing for some.
Nathan Munn | Polygon.net