Jewelry Business Insight
Hoover & Strong and Polygon announce the launch of an online diamond auction service to Polygon members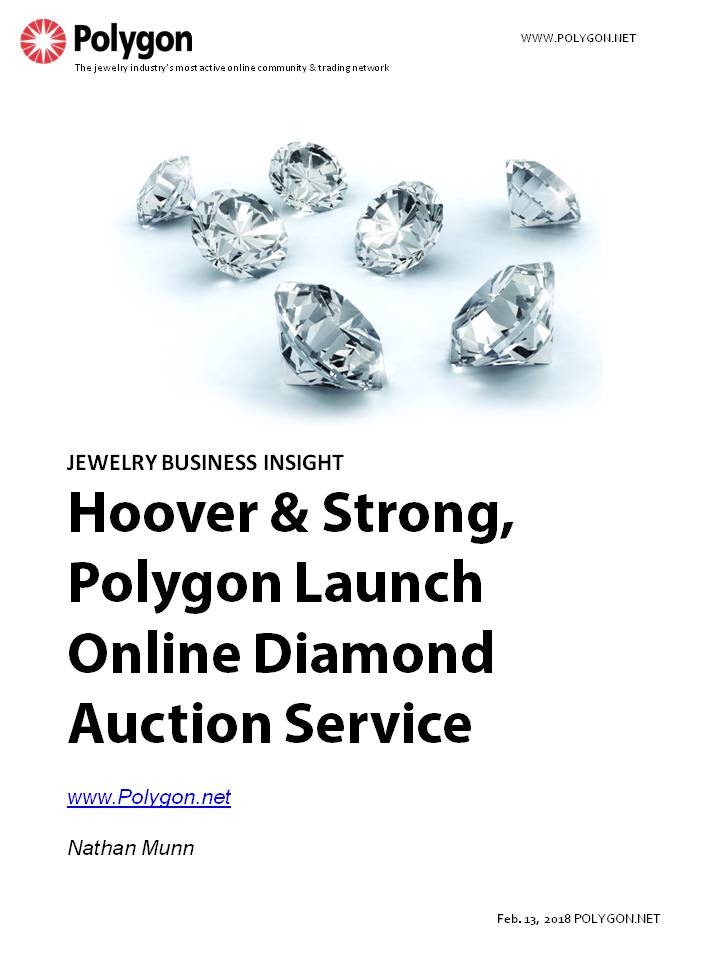 February 13, 2018 – Hoover & Strong and Polygon announced today a new partnership in order to offer Hoover & Strong's Harmony Diamond Auctions to Polygon members directly through the Polygon platform. The auctions are ideal for retail jewelers and pawn brokers who wish to sell secondary market/OTC goods, or for any seller to move diamond inventory, and is only accessible to members of the trade. Polygon members are pre-qualified to participate, and can access the auctions to bid or list items after a quick one-step registration.
"The auction feature offers complete visibility to the users and a quick turnaround, so it fits well with Polygon's platform and services", said Sean Lemire, Director of Sales & Operations of Polygon. "We have received great feedback and believe our members will find this an extremely beneficial, easy to use tool".
Hoover & Strong launched its unique online diamond auction platform in January 2015, and has since gained momentum and growth as both buyers and sellers are excited by how quick, seamless and transparent the auction process is. The auctions are held twice a month and feature single diamonds larger than 0.40ct or parcels of diamonds larger than 0.20ct with a minimum carat weight of 1.00ct. All diamonds are inspected, graded and cataloged by Hoover & Strong and all bidding is done online. Items are available for online bidding during a 48 hour auction, starting Monday 2:00pm EST and ending Wednesday 2:00pm EST. Auctions are currently held twice a month, but are planned to become weekly by the third quarter of 2018, as volumes increase.
"Many of our current users as well as Hoover & Strong have been long time members of Polygon, and we believe it serves as the best trading platform in our industry today", said Shelly Katzir, Special Projects Manager at Hoover & Strong. "Bringing our auctions to Polygon made so much sense. We trust the auctions will serve as a great addition to Polygon and will truly create an action packed live diamond marketplace".
The first auctions available on Polygon will start February 19th, and the auction submission deadline is February 15th. All items can be entered into the auctions directly through Polygon, where the sellers will be able to print their packing list, shipping label, and track their diamonds throughout the process. Bidding will start February 19th at 2:00pm EST.
To learn more about the Harmony Diamond Auctions on Polygon, contact Hoover & Strong or Polygon directly.
Hoover & Strong: 1-800-759-9997, ext. 127
auction@hooverandstrong.com
Polygon: 1-800-221-4435 | info@polygon.net
About Hoover & Strong:
Hoover & Strong is a manufacturer and refiner of 100 percent recycled precious metals. Established in 1912, Hoover & Strong is the supplier of choice for metalsmiths, large jewelry manufacturers, diamond houses and distributors. Product lines include mill products, findings, diamonds, mountings, semi-mounts and finished jewelry. Services include custom casting, diamond setting, assembly, finishing and refining. Hoover & Strong's vision is to "Provide the world jewelry market with the most innovative, environmentally-responsible products". In an industry where all products come from the Earth, they believe that conserving energy and recycling metals and stones are crucial and necessary steps that must be taken. Enabling the trading of second hand diamonds is only one of the many services Hoover & Strong offers to promote sustainability and environmentally responsible practices.
About Polygon:
Since 1984, Polygon has worked with thousands of jewelers and gem & jewelry business owners to help them grow. The membership-based network provides a secure online platform for vetted members of the industry to exchange ideas, access business intelligence, reports and pricing information, and trade in loose diamonds and colored stones, jewelry, fine watches, estate/vintage, coins, metals and more. In addition to their online services, Polygon also hosts several in-person trade events benefiting both members and others in the trade.