Jewelry Business Insight
Dell Computer Launches Recycled Gold Jewelry Collection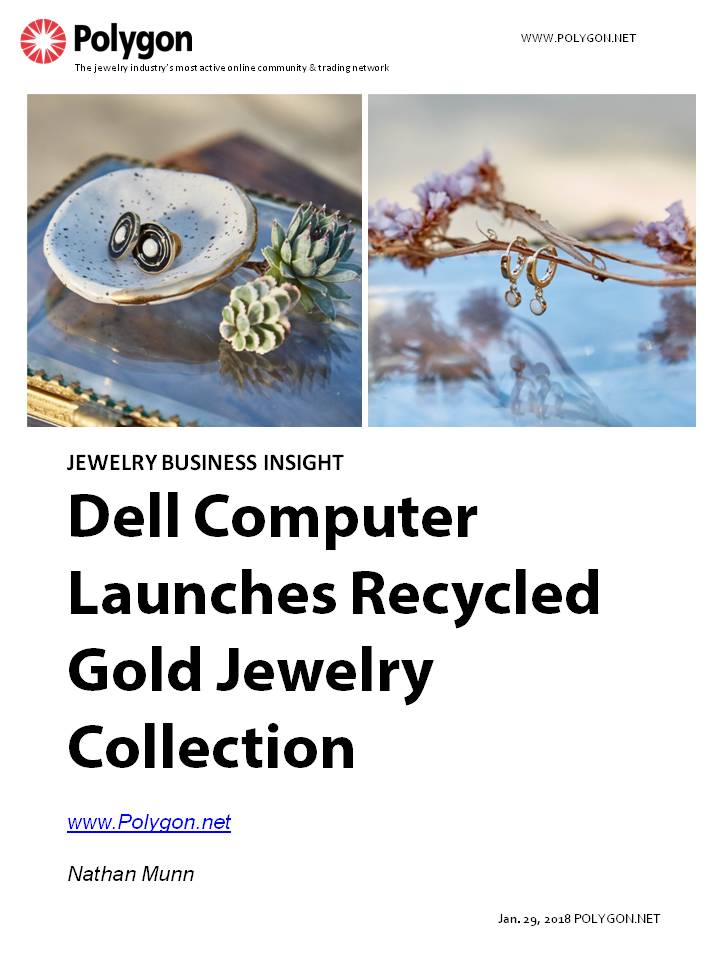 It seems like everyone is partnering with celebrities to launch jewelry brands these days, but the latest iteration of this trend is a bit out of the ordinary: Dell Computer has partnered with actress Nikki Reed (of Twilight fame) to launch a line of cufflinks, hoop earrings and rings made from recycled gold taken from the motherboards of old Dell computers.
Yes, you read that correctly.
Branded as "The Circular Collection" – the name refers to recycling – the line was unveiled at the 2018 edition of the Consumer Electronics Show in Las Vegas, where attendees were reportedly a little surprised to see the pieces alongside new Dell computing products.
Laptops, desktops and smartphones contain small amounts of gold and other precious metals in their components and the idea for the jewelry collection was driven by Dell's interest in finding a way to put the trace amounts of gold in its old motherboards to good use.
"Dell approached Nikki with the idea of making something beautiful from e-waste", reads the description of the origin of the Circular Collection on an official website.
"One industry's 'trash' can be another's treasure, and with Dell, we're proving that."
On its website, Dell says that it uses about 7000 pounds of gold in its manufacturing processes each year and claims that consumers in the U.S. throw away $60 million worth of gold and silver annually by discarding phones.
One of the first companies to fully embrace recycled precious metals was Hoover and Strong,  who launched their Harmony line of jewelry (made from recycled gold, silver, platinum and palladium) in 2008.
Following in their footsteps, recycled gold jewelry collections have been launched by several brands in recent years. Just this week, niche jewelry brand Sarah and Sebastian unveiled their newest collection of pieces, all of which are made from locally sourced or recycled gold.
Brilliant Earth also offers fine jewelry pieces made from 100 percent recycled metals.
Nathan Munn | Polygon.net