Jewelry Business Insight
Hoover and Strong to Offer Fairmined Gold in 2015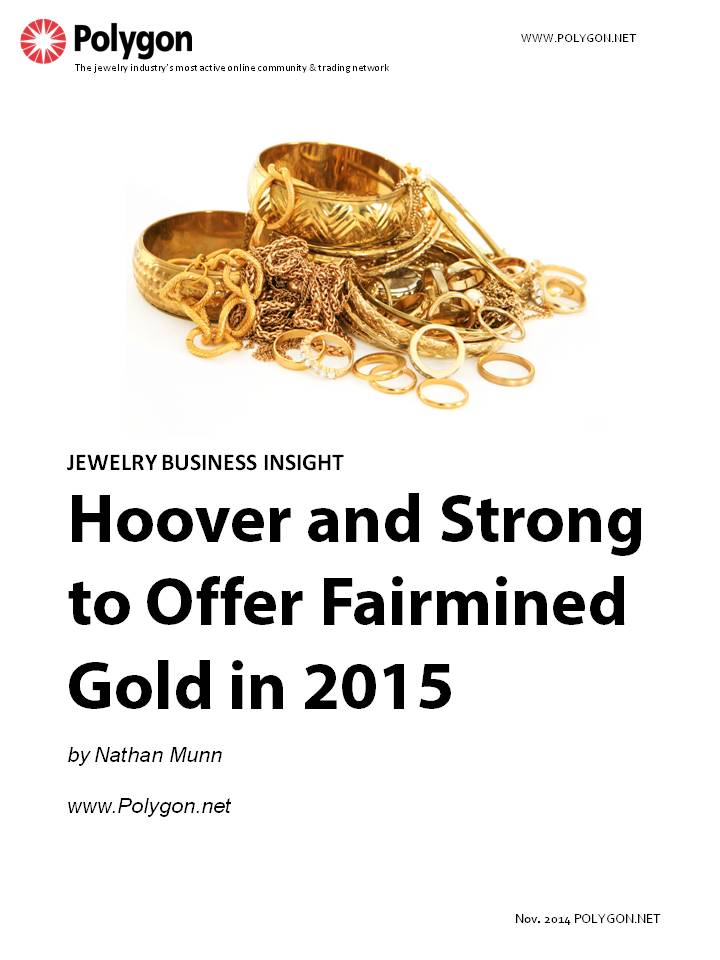 Hoover and Strong, a U.S.-based metals recycler and provider of loose diamonds, bridal products, custom casting, raw materials and finishing products to independent jewelers since 1912, will begin offering Fairmined gold in 2015.
Fairmined gold is sourced directly from small-scale, artisanal mining communities, and is subject to third-party certification and auditing to ensure the use of responsible mining practices. While details about the certification and oversight system employed by Fairmined on the organization's website – fairmined.org - are scarce, the complete text of the Fairmined gold standard is available at communitymining.org in English, French and Spanish.
The addition of a respected U.S. producer like Hoover and Strong to the organization's roster of supporters is an important step for Fairmined in terms of gaining support and long-term credibility in the industry.
Ethical Jewelry and Fairmined Gold
The addition of ethically-sourced gold to Hoover and Strong's product line has been in the works for more than a decade. In 2003, Oregon-based jewelry designer Toby Pomeroy asked the company if they could provide a 100-percent recycled metal to align with the designer's desire to craft ethical jewelry pieces. Five years later, Hoover and Strong introduced their Harmony brand, a combination of recycled gold, silver, platinum and palladium.
But it wasn't until 2011 that a diverse group of professionals active in the jewelry, mining and environmental protection sectors convened in Santa Fe, NM to develop a mine-to-market standard to ensure that the mining, refining and selling of gold is beneficial to the people and communities affected at each step of the process. The specifics of the resulting standards – Fairtrade and Fairmined gold certification – grew out of collaboration between Fairtrade International (FLO) and the Alliance for Responsible Mining (ARM), and address "democratic organization, safe working practices, management of toxic chemicals, respect for the environment and women's rights." The standards are verified by FLO-CERT, the inspection and certification body for Fairtrade-labelled products.
As of April 2014, only two gold-producing mines have been certified Fairmined, both of which are in Peru: the Aurelsa mine, and the Sotrami mine, which is also certified Fairtrade.
For their initial offering of Fairmined gold products, Hoover and Strong will stock round wire, grain and sheet yellow gold in 14k, 18k and 24k varieties, as well as Fairmined silver for casting purposes.
Jewelry producers who create pieces using Fairmined gold and want to benefit from the use of the Fairmined logo on their products must first apply for and obtain a license. The license allows the producer to use the Fairmined logo in designs and Fairmined promotional claims in advertisements. No license is needed to purchase Fairmined gold, however.
Hoover and Strong was founded in Buffalo, NY in 1912. The company produces all of its products in the United States using recycled materials that have been certified by SCS, a third-party certifier of recycled content.
Nathan Munn | Polygon.net