Jewelry Business Insight
Zale Shareholder Seeks to Block Signet Purchase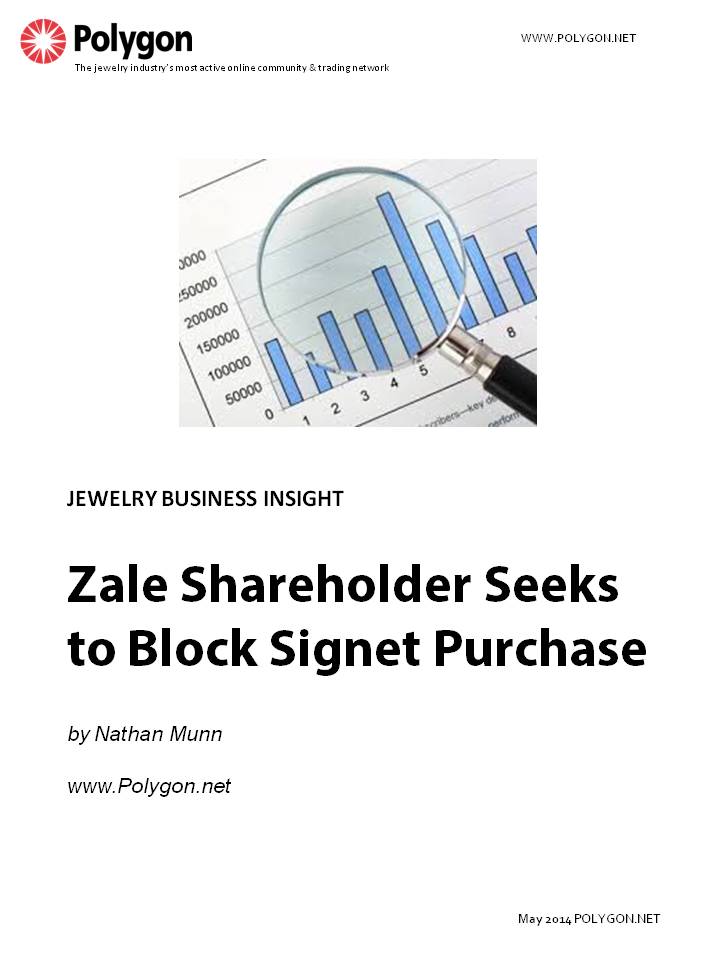 An investment company holding a 9.5 percent stake in Zale Corp. has stated that it intends to vote against the acquisition of the company by Signet Jewelers, as part of an upcoming shareholder vote scheduled for May 29. The announcement by TIG Advisors LLC, in which the investment company referred to the Signet/Zale deal as "inadequate" for Zale shareholders, could significantly delay or even derail the highly-publicized takeover that was announced in February 2014.
Zale shareholders must approve the acquisition by Signet in order for the deal to be finalized.
Despite TIG declaring its opposition to the deal and publicly urging other shareholders to vote against the acquisition or delay the vote, Zale's largest shareholder Golden Gate Capital has expressed support for the deal. Golden Gate owns 22 percent of Zale Corp.
In an analysis of TIG's position regarding the pending deal, the Wall Street Journal suggested that TIG was taking the role of activist investor in this case, essentially leveraging an ownership stake to push for a higher purchase price in a process referred to as "bumpitrage". TIG pointed out that Signet's share price soared by 18 percent the day after the Zale acquisition was announced and has risen another 9 percent since February, indicating that Signet is getting a good deal on Zale. Zale Corp. shares have also risen by 47 percent since the deal was announced.
In filing their position with regulators, TIG stated that Zale shareholders should be able to receive $28.60 per share in cash and stock from the acquisition, significantly more than the $21 per share price that has been agreed to by Signet and Zale.
TIG also raised concerns about the process leading up to the announcement of the acquisition, including the timing of a statement issued by Golden Gate in October 2013 in which the company stated that it intended to sell its shares in Zale. Zale's stock price dropped by 7 percent following the announcement, a sharp downturn after the stock had risen a phenomenal 283 percent in the preceding months of 2013.  The lowered stock price stayed stagnant for the rest of the year, ultimately allowing Signet to buy Zale for a cheaper price, says TIG.
TIG has stated that if it is unable to rally shareholder support and block the pending deal, it will file a court case seeking appraisal rights. Appraisal cases allow shareholders who do not support an acquisition deal to ask a judge to evaluate the worth of their shares after a deal has been completed. Judges in appraisal cases consult industry experts and examine financial records to determine a valuation for a company, which is then binding for the company and shareholders.
The shareholder vote to approve or reject the Signet/Zale deal will take place on May 29, 2014.
Nathan Munn | Polygon.net
Get a Free Tour
The jewelry industry's most active online community & trading network