Jewelry Business Insight
Working With Reputable Wholesale Jewelry Suppliers: Best Practices For Retail Jewelers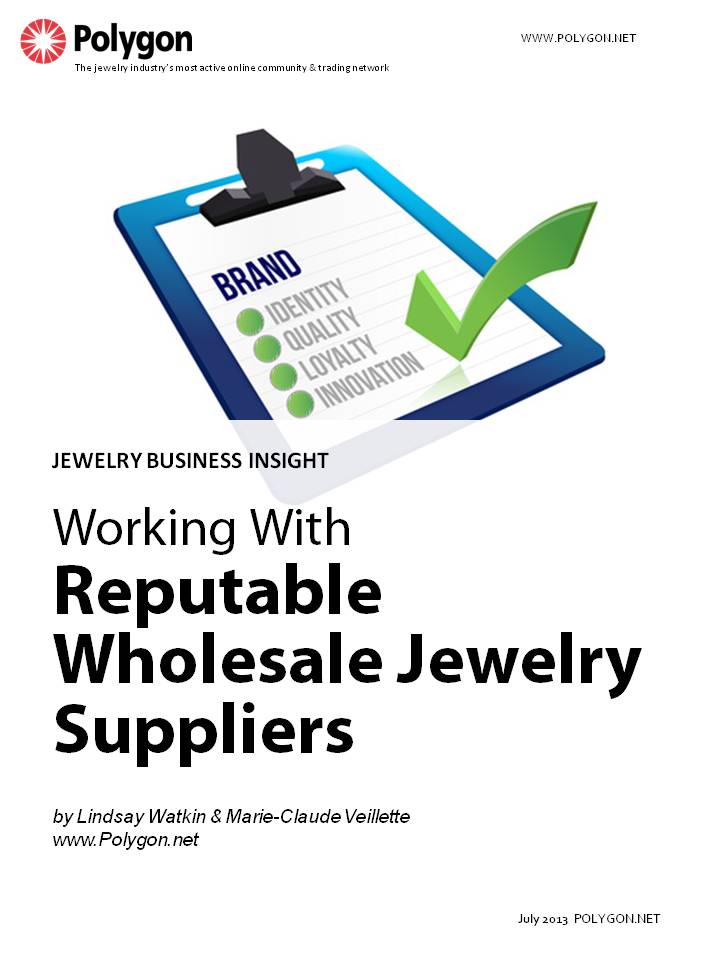 Working with a reputable wholesale jewelry, gem or diamond supplier is key for any retail jeweler. In our industry, we still work largely on trust; having mazal on an item is as good as having a written contract in many cases. However, it is important to follow some simple guidelines in order to protect your investment and ensure a safe and sound buying experience, especially when dealing with new vendors.
A good wholesale jewelry supplier should not only inspire confidence, but should be able to provide some solid credentials, too.
Ask for references
Before doing business with any new wholesale jewelry, gem or diamond supplier, ask for references. We suggest at least three, and they should be other companies in the jewelry industry with whom the vendor has done business in the last year. You want to make sure the references are current; businesses that may have had a good reputation five years ago may now have fallen on harder times.
Don't be afraid to follow-up with the references – call them, ask them about their experience. Consider what is important to you when working with a new wholesale jewelry supplier and ask questions based on that. For example, what was the service like, are they flexible on pricing, did they ship on time, etc.

Conduct background checks
Wholesale jewelry and gem suppliers should have a registered business, and you can verify this by checking the business registration documentation. Business licenses and Sales Tax Identification numbers are issued by state governments. You can ask the vendor for this information, or check online registries on official state government websites.
In addition, different organizations can help you find information about various wholesale jewelry companies and their credit-worthiness. Jewelers Board of Trade (JBT) offers its members – professionals in the jewelry industry – on-demand reports, credit ratings and reports, collection services and more. Dunn & Bradstreet (D&B) is another good resource when it comes to assessing credit risk.
Verify business information
More and more jewelry wholesalers have their own websites, which can be a good source for finding out more about the business. You can ask for basic banking information – make sure they have a business account, not a personal one. Insurance information is also helpful – any wholesale jewelry, gem or diamond supplier will have proper insurance and often through companies catering to the trade like Jeweler's Mutual or Wexler Insurance Agency.

Check feedback
Look online for feedback from other companies who have done business with the vendor, or even product reviews from customers. Websites catering to the jewelry industry, like Polygon.net, are good places to see reviews and feedback from other retailers and jewelry wholesalers.

Make sure their products are authentic
Consider brands in the secondary market: You buy a Rolex or Panerai watch, you want to make sure it has 100% genuine pieces. As a retail jeweler with a reputation to uphold, you want to make sure your customers get exactly what they ask and pay for. Likewise for wholesale jewelry items with diamonds or colored gemstones; diamond treatments are easy enough to spot, but what about different treatments for colored stones? Are you sure you're really getting a natural untreated ruby, or has it undergone heat or chemical treatment? It isn't always easy to tell, and this can have a significant impact on the value of an item. Don't be afraid to get an expert opinion, or have pieces evaluated by a reputable lab.
Get things in writing 
Always get things in writing, including terms, conditions, prices, return and shipping policies and any other information pertinent to your transaction. This will protect you in the case of a dispute and helps avoid any misunderstandings along the way.
Dealing with new wholesale jewelry suppliers can be stressful at first. Although you may easily find new vendors online, it is important to ensure you are dealing with reputable companies. Gem & jewelry wholesalers should be able to provide solid credentials. From there, you can build successful long-term business relationships that will grow and build trust.
Lindsay Watkin & Marie-Claude Veillette
www.polygon.net