Jewelry Business Insight
U.S. Retail Jewelry Industry Update 2013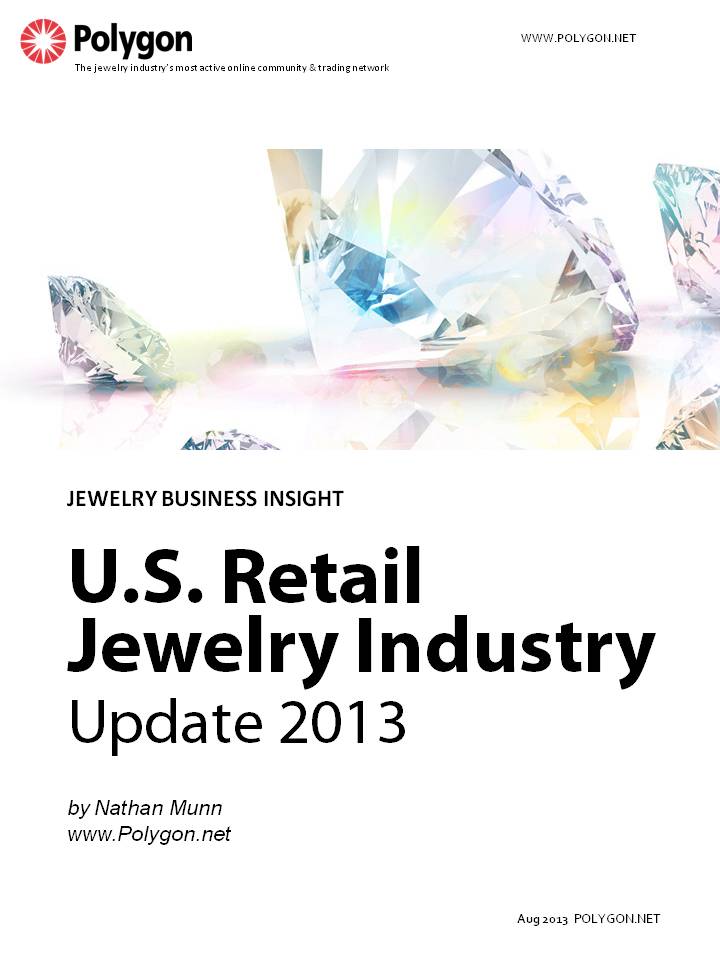 Overview
2012 proved to be an eventful and interesting year for the U.S. retail jewelry industry. Total fine jewelry and watch sales in the United States grew to an estimated $71.3 billion in 2012. This record figure represents a growth of 5.9% over 2011 sales ($67.3 billion).
While the nearly 6% sales increase in 2012 was significantly smaller than the 10.7% growth experienced in 2011, 2012 revenue growth was driven primarily by unit sales, as opposed to the inflationary pricing of precious metals and polished diamonds that drove 2011 sales figures.
Total revenues from fine jewelry sales in the U.S. in 2012 were $61.9 billion, up 6% from 2011. Total fine watch sales in the U.S. reached $9.4 billion, an increase of 5.8%. Revenue growth for both fine jewelry and fine watches grew at nearly the same rate for every month of 2012. Long term, retailer profit margins have been decreasing, as indicated by retail prices dropping 1.5% year-over-year, despite wholesale jewelry suppliers' prices increasing (2.4% increase in January 2013 over January 2012).
*Source: U.S. Chamber of Commerce/U.S. Census
2013 Trends
Available data for 2013 indicates that jewelry industry revenues will continue to grow from 2012 levels.
Total jewelry sales in the United States for the month of April 2013 grew 17.7% year-over-year, while total U.S. Retail jewelry sales grew by 10.6% in the first quarter of 2013 compared to the first quarter of 2012. Interestingly, retail jewelry sales by U.S. department stores decreased by 2.1% in May 2013 compared to May 2012, an indicator that some consumers may be moving towards independent retailers and online providers for their jewelry purchases.
*Source: U.S. Chamber of Commerce/U.S. Census
Wholesale Jewelry
Prices for wholesale jewelry rose by 2.4% between January 2012 and January 2013, during which time retail jewelry prices decreased by 1.5%, reducing profit margins for retailers. However, data indicates that the rate at which wholesale jewelry prices are increasing has slowed in 2013. Fluctuations in the market value of precious metals continue to cause volatility in wholesale jewelry prices, as wholesalers raise unit prices in an effort to protect their margins.
*Source: U.S. Chamber of Commerce/U.S. Census
Diamonds
The United States remains the world's largest consumer of diamond jewelry, with total yearly sales revenue in the area of $27 billion, accounting for 40% of total global demand. However, the diamond industry suffered significant revenue losses during the 2008 – 2009 financial crisis, during which time sales dropped 18% from a peak of $36.5 billion in 2007, resulting in a market that is still recovering today. Current data indicates modest but steady growth in the U.S retail diamond jewelry market, as total jewelry sales in America increased by 10.5% year over year for Q1 2013, and diamond jewelry sales consistently account for 45 - 50% of total U.S. jewelry sales.
*Source: Bain.com, "The Global Diamond Industry: Portrait of Growth", Dec. 2012

Cyber Monday & Online Sales
Cyber Monday is an online shopping event that falls on the Monday following Black Friday in the U.S., and has been promoted to spur online shopping since its first edition in 2005. Besides offering great deals to online customers, Cyber Monday also provides an opportunity for retailers to gain valuable insights and identify emerging trends in online shopping, information that will prove useful both presently and in years to come.
During Cyber Monday 2012, total sales for the 'Jewelry and Watches' category increased 17% over 2011. 25% of Cyber Monday shoppers visited online retailers from a mobile device (smartphone or tablet), nearly doubling the 2011 figure of 13%. Mobile visits in 2012 were essentially evenly split between devices, with smartphones accounting for 12% of visits and tablets accounting for 13%. 91% of all tablet visitors used an iPad to visit online retail sites, generating 7% of total online sales on Cyber Monday. Of total visits to online retailers on Cyber Monday 2012, 18% came from mobile devices, an increase of 70% over 2011. Furthermore, sales generated by mobile users reached 13% of total Cyber Monday sales, an increase of 96% over 2011 figures. These figures clearly indicate that consumers are becoming increasingly comfortable with shopping online using mobile devices. In 2012, traffic from social media platforms generated less than 1% of total Cyber Monday sales, down 26% from 2011. Online jewelry retailer Bluenile.com reported net sales of $400 million in 2012, an increase of 14.9% over 2011, resulting in gross profit of $75.1 million.
*Source: comScore, BlueNile.com

Conclusion
2012 was a year of record sales figures for the American retail jewelry industry, but it was also a year of continued squeezing of retailer margins and increased precious metal and polished diamond consumption by emerging markets such as China, now the world's top consumer of platinum, second largest consumer of gold after India, and second largest consumer of diamonds after U.S. Perhaps most importantly, 2012 witnessed significant growth in the use of mobile devices to shop online, and the continued growth of online jewelry sales.
Nathan Munn | Polygon.net