Jewelry Business Insight
U.S. Retail Jewelry Store Sales: Q1 - Q2 2016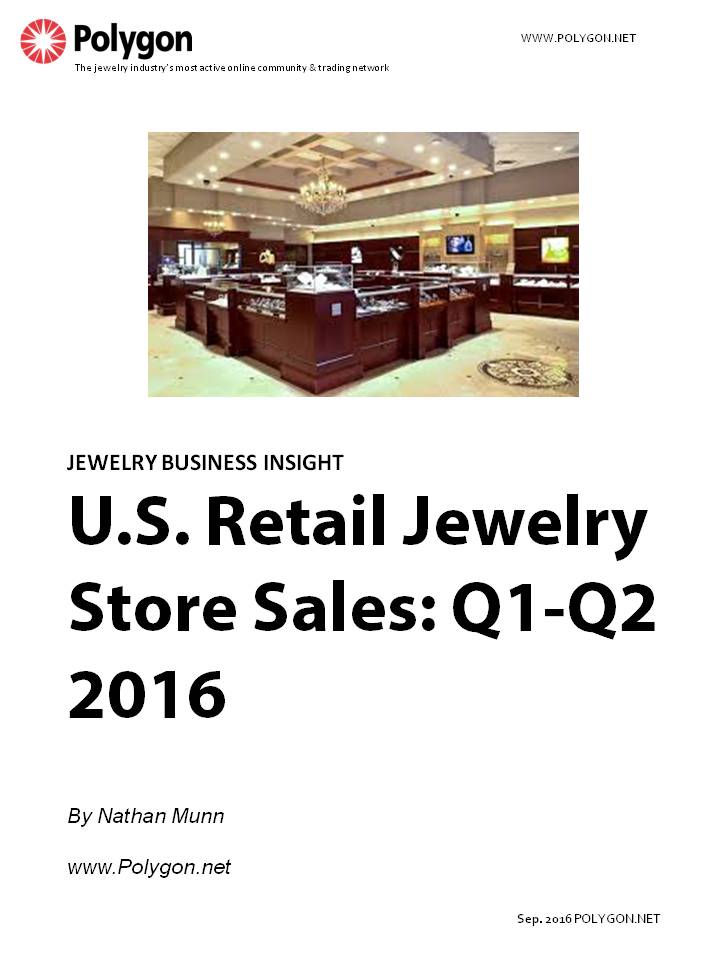 Year-on-year sales of jewelry by retail jewelry stores in the U.S. grew slightly during the first two quarters of 2016, providing some much-needed good news for traditional jewelry retailers.
While the months of January, June and July saw slight declines in year-over-year sales, total sales by retail jewelry stores for the period of Q1-Q2 2016 rose to $15.931 billion (USD), up from $15.787 billion in Q1-Q2 2015. 


U.S. Retail Jewelry Store Sales: Q1-Q2 2016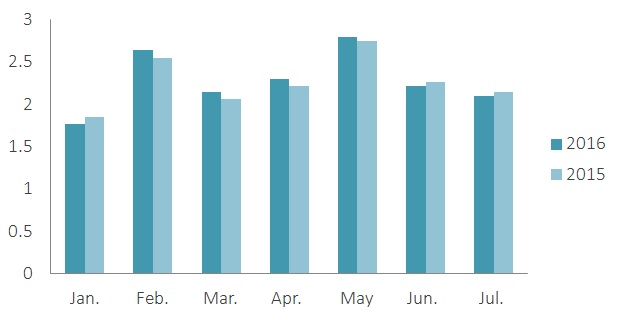 Source: U.S. Census Bureau


The uptick in sales is a welcome development in the retail jewelry sector, where jewelers are adapting to a fragmented and uncertain retail market. Many brick-and-mortar jewelers have been struggling with slow sales and slimmer margins in recent years, situations that can be at least partly attributed to the growing market share of online-only jewelry retailers and successful online sales strategies that have been rolled out by major jewelry brands.
The 2016 Q1-Q2 sales figures indicate the overall resilience of brick-and-mortar retailers, even as major jewelry chains adapt to shrinking sales. Signet Jewelers reported that total same-store sales shrunk by 2.3% in the second quarter of the year, while total sales fell 2.6%, or $1.4 billion.


U.S. Retail jewelry store sales 2016 (Billions)
| | | | | | | |
| --- | --- | --- | --- | --- | --- | --- |
| Jan. | Feb. | Mar. | Apr. | May | Jun. | Jul. |
| $1.764 | $2.64 | $2.136 | $2.291 | $2.787 | $2.216 | $2.097 |

Retail Jewelry Store Closures and Opportunities
According to the Jeweler's Board of Trade, the number of U.S. jewelry business that discontinued operations in Q2 2016 was 66 percent higher than in Q2 2015 and included 350 retailers, illustrating the ongoing shrinkage of the retail jewelry sector.
Despite the negative consequences of fewer players in the retail jewelry market, the closure of retail jewelry stores across the U.S. has also brought about a new era of opportunity for brick-and-mortar jewelry retailers. Customer surveys and studies show that today's jewelry customers put a premium on good service; the ability to see and feel an item of jewelry before making a purchase is particularly important to younger customers.
For millennials, the provenance of the gems and metals that comprise a piece of jewelry can be the deciding factor for a purchase. For these customers, environmental and social concerns are intertwined in the jewelry-buying process. By stocking jewelry products that address these concerns, traditional retailers can position themselves to gain the trust and business of millennial customers.
To learn more about current developments in the retail jewelry industry, read our Retail Jewelry Industry in the U.S. 2016 report.


Retail Jewelry Holiday Season Sales 2016

This year's holiday season will likely be a pivotal moment for retail jewelers, many of whom make 40% or more of their annual revenue during the last two months of the year. Holiday jewelry sales figures give a good indication of consumer confidence and interest in jewelry, while also providing insight into important trend information such as the ratio of online to brick-and-mortar sales for major jewelry chains and the industry in general.
Detailed information about last year's holiday season jewelry sales can be found in this report.
Nathan Munn | Polygon.net
Get a Free Tour
The jewelry industry's most active online community & trading network