Jewelry Business Insight
U.S. Luxury Watch Market Update: 2017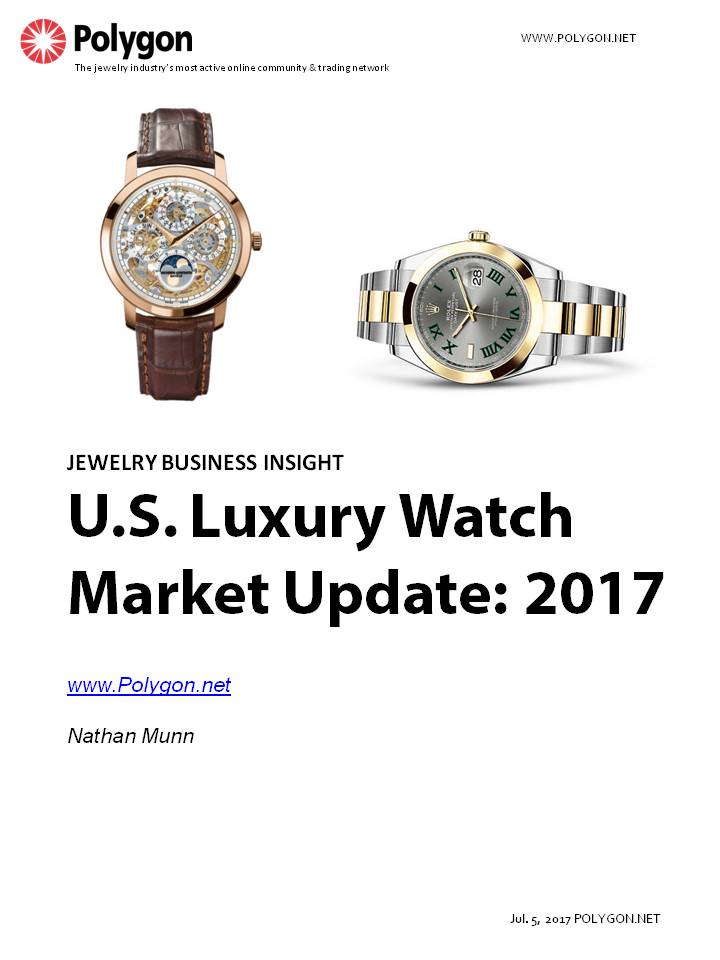 According to research and consulting firm Bain & Co., the market for luxury goods in both the U.S. and Canada continues to underperform relative to the rest of the developed world, with growth for 2017 in the two markets expected to be flat at best. A decline of up to 2 percent in each market is a possibility.
Despite this uninspiring outlook for the luxury market, the United States remains the biggest market in the world for personal luxury items, and high-end watches appear to be growing in popularity relative to other luxury goods.
Data obtained by Statista shows that Switzerland remains the top exporter of luxury watches, with the country having exported $22.4 billion (USD) worth of the products in 2015. This is more than double the dollar amount of luxury watches exported by their nearest competitor, Hong Kong, which exported $9.9 billion worth of luxury watches that year, followed by China ($5.8 billion), France ($2.9 billion) and Germany ($2.4 billion).
The range of brands that dominate the luxury watch market is robust and continues to grow, thanks to niche designers and producers that bring new, high-value products to market and attract new buyers with specialized offerings. Classic luxury watch producers that are currently popular include Cartier, Patek Philippe, Rolex, Blancpain Le Brassus, Vacheron Constantin, Audemars Piguet, Girard-Perregaux, Ulysse Nardin, Jaeger-LeCoultre, TAG Heuer, A. Lange and Sohne, Breguet, Parmigiani, Franck Muller, Oris, Ball Watch, Zenith, IWC, Hublot, Mont Blanc and Officine Panerai.
Some of the more inventive luxury watch designers that are currently popular include Fiona Krüger, Baume & Mercier, Greubel Forsey and HYT.
Luxury Watch Design Trends
An April 2017 JCK review of the latest watch designs from Piaget included stunning timepieces with ultrathin movement and featuring unisex designs and vibrant colors. The pieces are also high-priced: $28,500 for the white gold Altiplano model, and $192,000 for the diamond-studded, alligator-strapped Altiplano Tourbillon.
Patek Philippe has released the 2017 "Complications" collection of timepieces, featuring platinum and gold materials and world map imagery.
Rolex has released a line of watches that represent a modern take on classical watch design. The Oyster Perpetual Datejust 41 is the flagship of the collection.
TAG Heuer's line of "Connected" smartwatches, produced in partnership with Intel and powered by the Google Android operating system, represent the state-of-the-art for luxury smartwatches.
Franck Muller has released the Gravity Skeleton, an ellipse-shaped timepiece with a "three dimensional" aspect that allows for the viewing of its intricate mechanics.
Vacheron Constantin has introduced a collection of astronomical watches that include such unique features as moon-phase measurement and retrograde date formats. 
To find out more about current trends in the personal luxury market beyond luxury watches, download the Polygon What's Hot, What's Not 2017 report and our report on the retail jewelry market in the U.S. for 2017.
Microbrands
A dramatic increase in the number of Swiss-made watches produced by little-known manufacturers – the development of which are often funded through crowd-sourcing platforms such as Kickstarter – is subverting the dominance of established luxury watch brands by connecting buyers with Swiss-quality timepieces at a fraction of luxury brand prices.
This phenomenon is being driven by market demand for high-quality timepieces that bear the legal distinction of "Swiss-made", which historically has required that any watch bearing the Swiss-made text meet the following conditions: that the timepiece's movement is Swiss; that the movement is cased in Switzerland; and that the manufacturer does final inspections of the product in Switzerland. The rules were expanded further in 2017 to stipulate that at least 60 percent of the total production costs and 60 percent of production of the movement of a watch must be attributable to Switzerland to qualify it as Swiss-made. As well, technical development of the product must occur in Switzerland.
The tougher rules were introduced to squeeze out lower-end manufacturers who were squeaking in products that paired Swiss movement with inferior-quality components in order to benefit from the "Swiss-made" designation.
Microbrands have found a new way to provide Swiss-made timepieces at relatively low prices by connecting with manufacturers of Swiss movement (including once-dominant mass-market watchmaker Swatch), then pairing the movement with components sourced from other countries and delivering the finished products directly to buyers. Thanks to crowd-sourcing, the process also allows microbrands to avoid all the financial risk that is normally associated with developing a new product – a winning business model if there ever was one. 
Nathan Munn | Polygon.net