Jewelry Business Insight
U.S. Antique Shows Partners With Polygon in 2014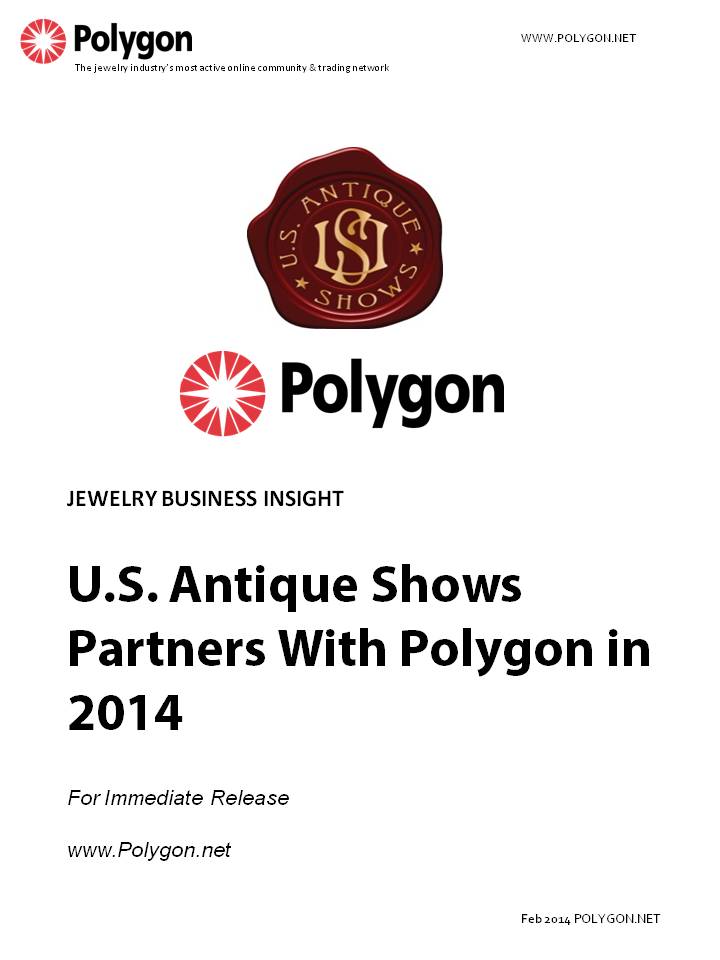 NAPLES, FL (April 22, 2014) – U.S. Antique Shows, the world's largest producer of indoor antique shows, recently announced their latest partnership with Polygon for their 2014-15 antique jewelry and watch shows. Polygon is an online community and trading platform for jewelry professionals, where members trade diamonds, jewelry, colored stones, watches, estate pieces, and more.
"We're excited to continue our partnership with such an elite organization as Polygon," says Dan Darby, Emerald Expositions vice president and U.S. Antique Shows group show director. "We've partnered with them for four years and many of our dealers are already members of their online community, therefore we understand the value they provide and we believe it's important to introduce this exceptional resource to new dealers."
Polygon will sponsor the following U.S. Antique Shows in 2014-15: Las Vegas Antique Jewelry & Watch Show; New York Antique Jewelry & Watch Show; Miami Antique Jewelry & Watch Show; and The Original Miami Beach Antique Show, the world's largest indoor antique show. Polygon's partnership also includes a booth at the upcoming Las Vegas Antique Jewelry & Watch Show, May 29-June 1, 2014.
Polygon provides a sophisticated online environment for members to actively interact on the forums, as well as buy and sell loose diamonds, finished and semi-finished jewelry, precious and semi-precious gemstones, pearls, watches, estate pieces, coins, precious metals and more. At the Las Vegas Antique Jewelry & Watch Show, Polygon will have agents onsite to provide those interested with free tours of their extensive website and introduce them to the membership opportunities available.
"We're so pleased to be working again with U.S. Antique Shows, and to be a part of the Las Vegas Antique Jewelry & Watch Show this year. The event is a perfect fit for Polygon, bringing together a unique mix of vendors and one-of-a-kind jewelry pieces. We look forward to a continued partnership in the years to come!" said Polygon Sales and Marketing Director Lindsay Watkin.
Located in 34 countries worldwide, Polygon is the most active online community and trading network for qualified gem and jewelry professionals, housing an inventory valued at $3.5 billion. Established in 1984, Polygon has helped thousands of members gain invaluable knowledge and find unique trading opportunities that have significantly impacted the year over year growth of their business.

                                                                                                           ###
About U.S. Antique Shows
U.S. Antique Shows, the world's largest producer of indoor antique shows, focuses on presenting a wide range of antiques as well as antique, vintage and estate jewelry and watches to 50,000 consumers annually. The company is the only producer that serves the unique needs of the antique and antique jewelry industry supporting sales in Las Vegas, Los Angeles, Miami, Miami Beach and New York. Their shows host internationally recognized dealers promoting the purchase of rare and unusual historic merchandise to antiques collectors, novice enthusiasts, socialites and celebrities. U.S. Antique Shows draws more than 3,000 dealers from 28 countries worldwide exhibiting their signature collections in 400,000 net square feet across nine shows.
For more information, visit www.USAntiqueShows.com, like us on Facebook: www.Facebook.com/OfficialPage.USAntiqueShows, follow us on Twitter: @USAntiqueShows and explore our Pinterest: Pinterest.com/USAntiqueShows. Check out our new blog at www.USAntiqueShows.com/TheQuill.aspx.

MEDIA CONTACT: Mary Curtis
Public Relations Manager
U.S. Antique Shows
239.330.3832
mcurtis@usantiqueshows.com
Get a Free Tour
The jewelry industry's most active online community & trading network