Jewelry Business Insight
U.S. Antique Shows Expands Partnership With Polygon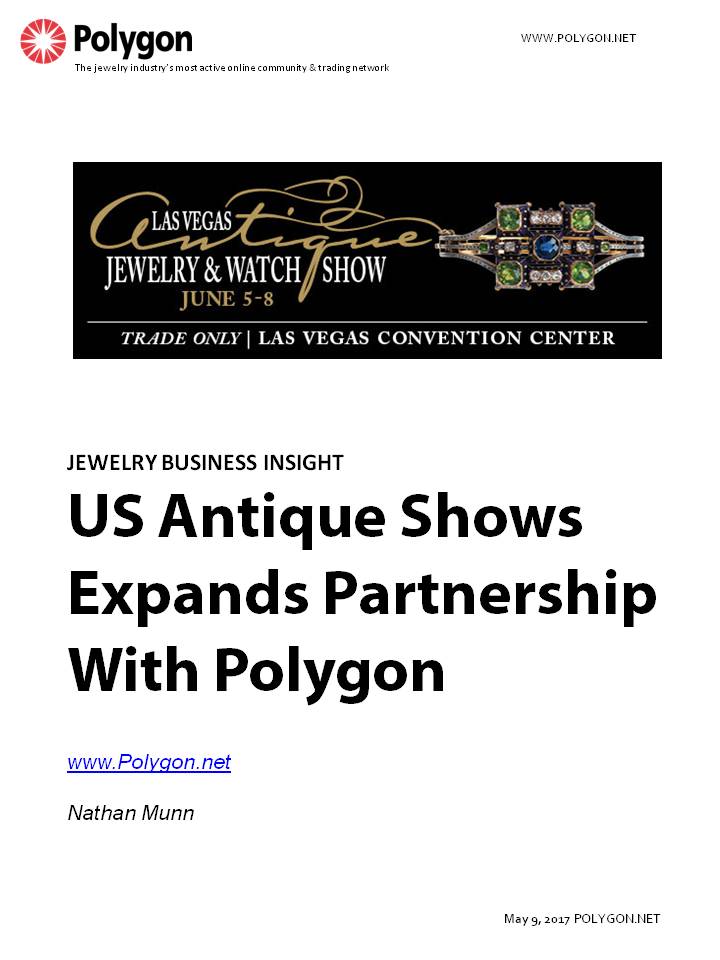 U.S. Antique Shows, the world's leading producer of indoor antique shows, recently announced their latest partnership with Polygon, the premier online community and trading platform for jewelry professionals, where members trade diamonds, jewelry, colored stones, watches, estate pieces and more.
"Our partnership with Polygon is a natural fit," noted Dan Darby, Emerald Expositions vice president and U.S. Antique Shows general manager.  "Many of our dealers are already members of their online community, therefore we understand the value they provide and we believe it's important to introduce this exceptional resource to new dealers."
Polygon will also host the Third Annual Trading Pavilion on June 4 from 9 a.m.- 2 p.m. at the upcoming Las Vegas Antique Jewelry & Watch Show. This one-day event is open to all vetted Polygon members, U.S. Antique Shows' exhibitors, qualified members of the International Watch & Jewelry Guild (IWJG), World Wide Traders (WWT) and West Coast Diamond Club. The trading pavilion will allow qualified attendees to buy and sell merchandise. To register, contact Polygon directly at 1-800-221-4435 or info@polygon.com.
In addition, Polygon will have a booth at the show. Stop by booth 104 to meet the team!

The Las Vegas Antique Jewelry & Watch Show includes a roster of over 400 of the most well-respected dealers of antique and estate watches, jewelry and curiosities. Items on the show floor range from the Renaissance to Modern periods and include exquisite gemstone and diamond jewelry, retro watches, cameos and intaglios, flora and fauna statement pieces and more. In addition, attendees can expect to find elegant signed pieces from famous brands including Cartier, Bulgari, David Webb, Harry Winston, Patek Philippe, Buccellati, Van Cleef & Arpels and many others.
The show will take place this year at a new location, the Las Vegas Convention Center. Registration is now open for the jewelry trade only. Pre-registration is $30, on-site is $50 for all four days. Show times are Monday, June 5 to Wednesday, June 7 from 11 a.m. - 7 p.m. and Thursday, June 8 from 11 a.m. - 4 p.m. For more information about the show, call 239.732.6642 or visit www.VegasAntiqueJewelry.com.
Three additional Emerald Expositions shows will be running concurrently in Las Vegas during Jewelry Market Week: COUTURE, the leading authority for designer fine jewelry and luxury time pieces in North America, ACRE, the premier wholesale craft exposition in North America, and Jewellery Box, a new event for high-quality, on-trend jewelry at accessible price points.