Jewelry Business Insight
U.S. Antique Shows Launches LUEUR: The East Coast's Largest Fall Antique Jewelry & Watch Event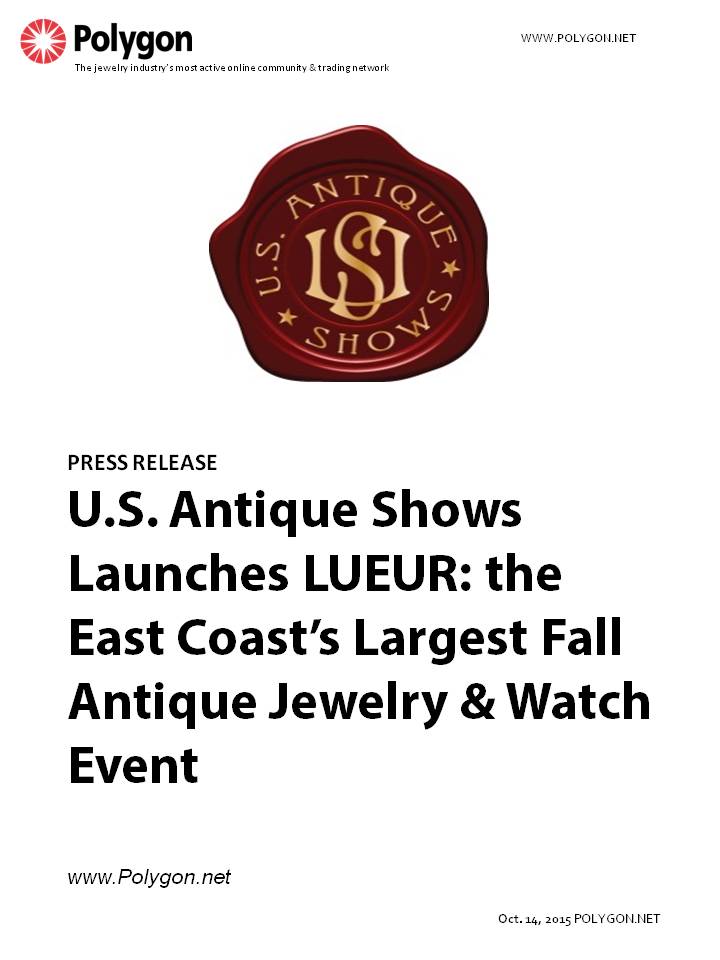 October 14, 2015 - Timed perfectly for the holiday season, LUEUR, the new, exclusively chic antique jewelry and watch show, will be held at Javits Convention Center in New York City, October 23-25. The show will feature the most elite purveyors of antique, estate and vintage jewelry and watches who will bring highly prized pieces to New York City for three days only.
The merchandise that will permeate the show floor was obtained from estates and jewelers across the globe and represents a range of jewelry history periods, from Edwardian to Contemporary. This includes an array of elegant signed pieces from famous names such as Cartier, Tiffany's, Patek Philippe, Van Cleef & Arpels and more, as well as one-of-a-kind jewelry pieces comprised of colored diamonds, a variety of gemstones and pearls.
LUEUR will also offer jewelry retailers exclusive buying opportunities with trade-only hours on the show's first day. The show's remaining days will be open to the public. In addition, the event's sales will reach 7,500 jewelry professionals attending JA Special Delivery, which runs concurrently with LUEUR at the Javits Convention Center.
Producing LUEUR at the Javits Center in October ensures that the show's dates and location are renewable for years to come. The center has undergone a comprehensive, state-of-the-art renovation that has transformed the iconic facility into a world-class convention center. Most recently, the 34 St-Hudson Yards 7 Subway Line Station has opened and is the first new subway station in New York City in more than 25 years. It's located directly across from the Javits Center on Manhattan's West Side, ensuring easy and convenient access for attendees traveling to the show from within the NY metropolitan area.
Show times are Friday, October 23 from 10 a.m.-1 p.m. for the jewelry trade only. LUEUR will be open to the public Friday, October 23 from 1-7 p.m., Saturday, October 24 from 11 a.m.-7 p.m. and Sunday, October 25 from 11 a.m.- 4 p.m.  Admission is $20 and is valid for all three days of the show. For more information about the show or to purchase tickets, visit www.LUEURNY.com
Get a Free Tour
The jewelry industry's most active online community & trading network