Jewelry Business Insight
Two 160 Carat Diamonds Discovered at Letseng Mine in Lesotho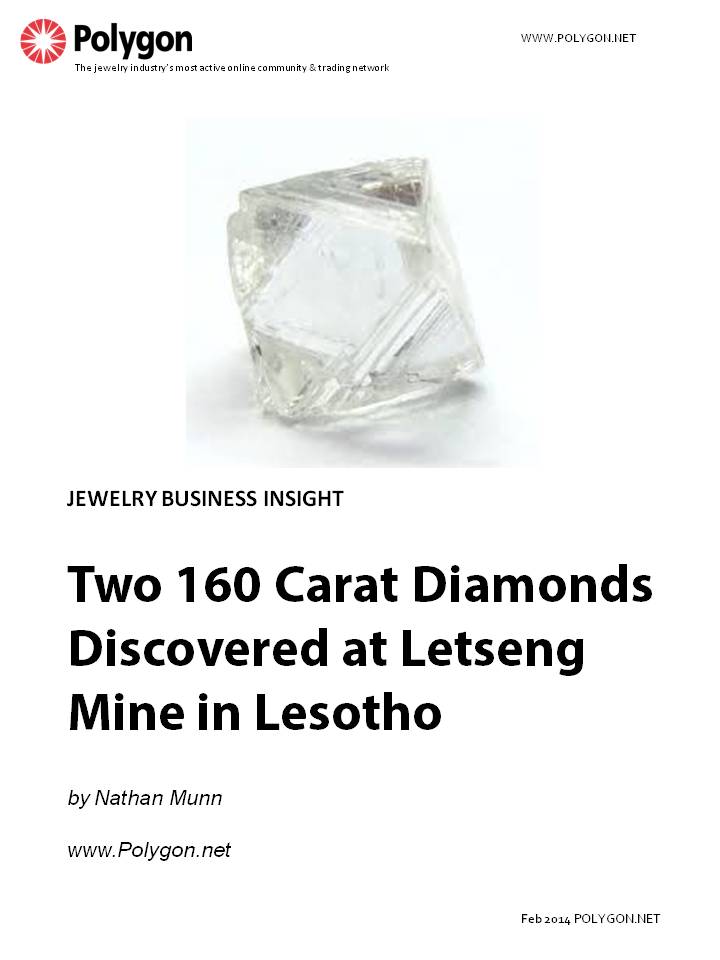 Two rough diamonds, each in excess of 160 carats, have been extracted in "largely undamaged condition" from a mine located in the tiny nation of Lesotho, a landlocked country in the middle of South Africa.
The diamonds were discovered by London, England-based Gem Diamonds Limited at the Letseng mine in Lesotho.
The two stones, a 162.06 carat Type II diamond and a 161.74 carat Type I diamond, represent the largest individual rough stones to be removed from Letseng since the site was acquired by Gem Diamonds in 2006. Analysts from Citi Financial estimated that the two 160-plus carat rough diamonds could be worth as much as $8 million each.
So far, the Letseng mine has yielded four of the twenty largest white diamonds ever discovered.
By any measure, Letseng has proven to be a very productive site for both Gem Diamonds, which holds a 70% ownership stake in the mine, and the Government of the Kingdom of Lesotho, which owns the remaining 30%. In September 2013, a 12 carat rough blue diamond was discovered at the mine, while in August of 2011 miners at Letseng extracted the famous 550 carat Letseng Star, a Type IIa colourless stone considered the world's 14th-largest diamond, which subsequently sold for $16.5 million.
CEO of Gem Diamonds, Clifford Elphick, had this to say about the dual Letseng discoveries: "We are pleased to see the Letseng mine continue to deliver such large, high quality white diamonds as the mine confirms its position as the world's foremost source of exceptional large diamonds."
Gem Diamonds Limited was founded in 2005 by Mr. Elphick and operates mines in Indonesia, Angola, Australia, Botswana, the Central African Republic, the Democratic Republic of Congo, and Lesotho.
Nathan Munn | Polygon.net
Get a Free Tour
The jewelry industry's most active online community & trading network