Jewelry Business Insight
Tiffany Awarded $19.4 Million in Costco Lawsuit Win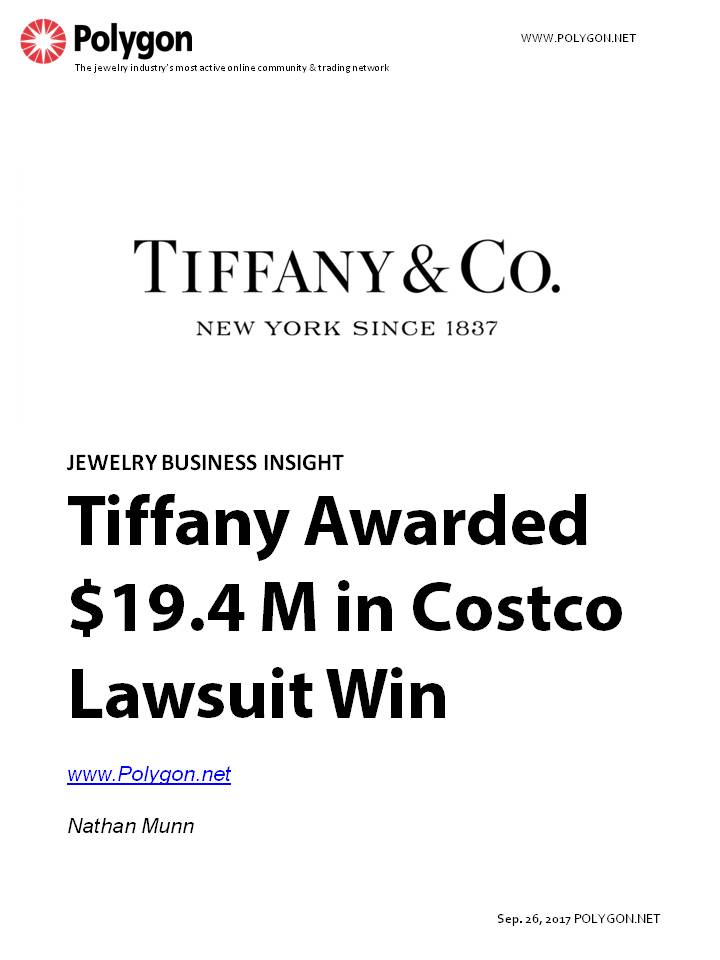 Retailers, beware: Using the Tiffany name to sell any jewelry other than official Tiffany & Co. products could land you in hot water.
Wholesale giant Costco learned this the hard way in August, after a federal judge in New York ordered the company to pay $11.1 million to Tiffany & Co. for selling rings advertised as "Tiffany" without telling customers that the name referred to the setting style of the rings, not the well-known luxury jewelry brand.
After a Costco customer alerted Tiffany to the practice in 2013, Tiffany filed suit against Costco, alleging counterfeiting, trademark infringement, deceptive business practices, false advertising and injury to business reputation.
In response, Costco filed a countersuit and argued that the name "Tiffany" can be used by any retailer to describe a ring that features slim prongs holding a solitary stone. (Retail jewelers often use "Tiffany" to describe such a ring setting, but usually include clarifying language - such as "setting" or "style" - on signage to differentiate the products from genuine Tiffany & Co. jewelry.)
The wins started rolling in for Tiffany in 2016, when the company was awarded $3.7 million to compensate for lost profits. Costco was also ordered to pay another $8.25 million in punitive damages and to notify Costco customers who purchased the deceptive Tiffany rings that they would be entitled to refunds.
The latest $11.1 million award is actually a revision of the first $3.7 million award; the judge in the case calculated the new, higher figure based on profits lost, plus interest, retroactive to 2013, bringing the total damages awarded to Tiffany to $19.4 million.
The decision sets a strong precedent. By rejecting Costco's defense and sending the case to a jury to decide how much Tiffany & Co. was owed by the wholesaler, the courts have handed the Tiffany brand a major victory that could be leveraged by other brands fighting to protect their intellectual property.
Costco has said that it will appeal the decision.
Nathan Munn | Polygon.net