Jewelry Business Insight
TAG Heuer Partners With Google and Intel to Create Smartwatch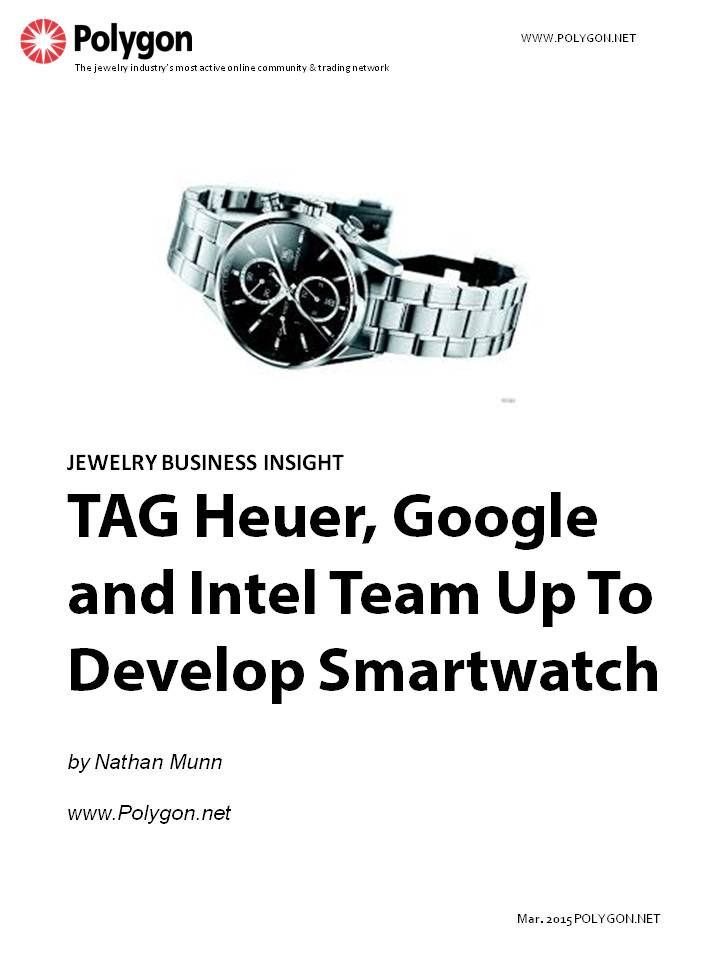 Iconic Swiss watchmaker TAG Heuer has announced that the company will partner with Google and Intel to create a smartwatch powered by Google's Android operating system, to compete with the recently-released Apple Watch.
David Singleton, Director of Engineering for Google's Android Wear, and Michael Bell, General Manager of Intel's New Devices division joined TAG Heuer CEO Jean-Claude Biver onstage at the Baselworld Watch and Jewelry Show to make the announcement.
Though they remain a niche product, smartwatches have been steadily growing in popularity in recent years. To many analysts, Apple's entry into the market this year with the Apple Watch marks an important shift in the evolution of the smartwatch from an immature technology to a product with mass consumer appeal.

'Switzerland meets Silicon Valley'
Because the microprocessor of the TAG Heuer smartwatch will be produced elsewhere in the world, the watch may not be branded with the valuable 'Swiss-made' designation. However, the rest of the watch components will be produced in Switzerland, leading Biver to explain that the marketing of the watch will likely include a phrase that recognizes this important aspect of the watch – perhaps "assembled and made in Switzerland", he mused.
At the event, General Manager of TAG Heuer Guy Sémon stated "The quality of Swiss watches is renowned worldwide. When this is allied with the creative technology and global power of two companies like Intel and Google… We can see the launch of a technological revolution in our industry."
In a subsequent interview with Wired magazine Sémon admitted that he is not sure if a market for a TAG-branded smartwatch even exists - but that after the Swiss watch industry was disrupted by the rise of quartz watches in the 1970's, TAG is taking no chances.
Sémon told Wired that TAG "[has] to consider the connected watch because we had a bad experience… with quartz at the beginning of the 70's."
"If it is possible, I prefer to be safe. I don't know where this train is going, but what I do know is that I have to be on the train."
During the interview, Sémon also revealed that the TAG smartwatch will likely be modeled on the brand's latest conventional watch, the Carrera Heuer-01.
Nathan Munn | Polygon.net
Get a Free Tour
The jewelry industry's most active online community & trading network