Jewelry Business Insight
States of New York and New Jersey Ban Most Ivory Sales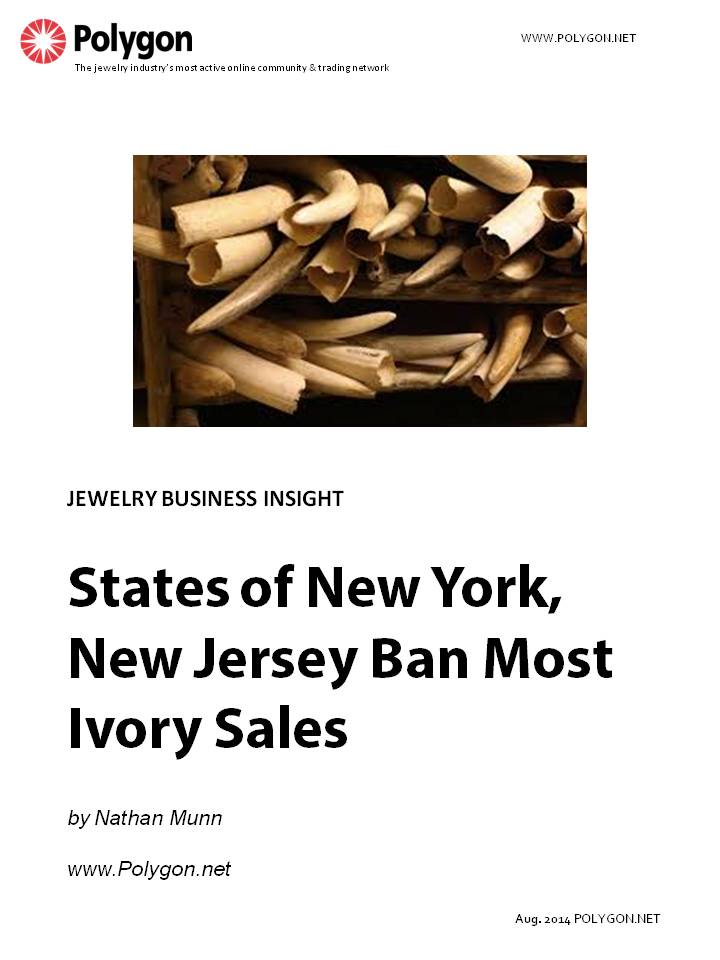 On Aug. 12, New York State Governor Andrew Cuomo signed into law a bill banning the sale of ivory in the state. The new law makes it illegal to sell rhino horn, elephant ivory and mammoth ivory, while making exceptions for some products, and is similar in nature to a law passed by New Jersey Governor Chris Christie on Aug. 5.
Exceptions to the new law include antiques that are over 100 years old and have less than 20% ivory in their composition, and musical instruments that were manufactured before 1975. Further exceptions allow for the transfer of ivory for educational or scientific purposes and for the transfer of elephant ivory to a legal beneficiary of a trust or estate.
The selling of ivory or ivory products valued over $25,000 is now classified as a Class D felony in New York, for which a conviction is punishable by up to seven years in prison.
In February, the federal government announced a near-total ban on ivory sales in the U.S. as part of the National Strategy on Wildlife Trafficking. The strategy is intended to curb demand for ivory in the United States, but has raised concerns among collectors of antiques and musical instruments made with ivory that they will find themselves on the wrong side of the new law.
The Obama administration has said that any ivory being offered for sale must be accompanied by a sale permit issued by the United States or a foreign government, and clearly show that the ivory in question was imported before 1989 in compliance with the Endangered Species Act. As under the New York and New Jersey laws, antique ivory over 100 years old is exempt from the new federal regulations, on the condition that proof of age and provenance of the ivory are provided by the owner. However, permit holders will not be allowed to transport ivory across state boundaries.
The United States ranks behind China as the world's second-biggest market for illegal animal artifacts.
Nathan Munn | Polygon.net
Get a Free Tour
The jewelry industry's most active online community & trading network