Jewelry Business Insight
Smarter Jewelry Sourcing And Buying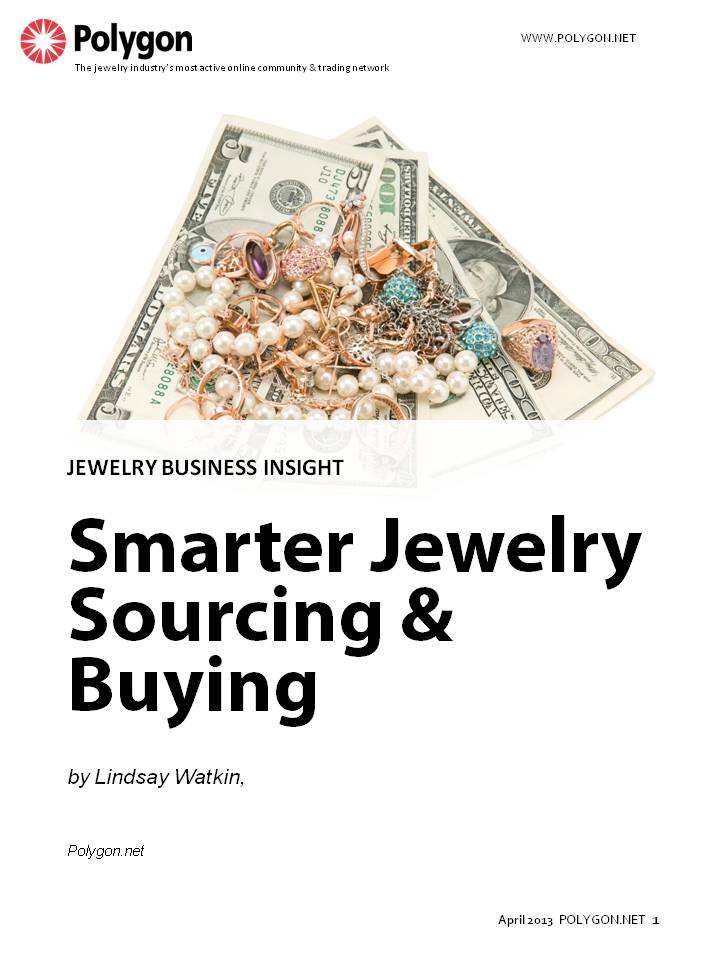 Smart sourcing and buying is paramount to a jeweler's success; buying the right items at the right prices will translate into more sales and better margins. Yet, buying – whether it is over the counter or directly from a supplier - is complex and can lead to costly mistakes when you don't have all of the necessary information.
Sourcing & Buying Considerations
There are many different scenarios and considerations when it comes to buying in your jewelry store.
Let's say you've designed a custom engagement ring for a good client and need to find a 2.50 E VVS1 carat for the center stone. You need not only to locate the diamond quickly (and there aren't thousands of these stones on the market) but you also need to make sure you get the best stone at the best price. A smart buyer will locate sellers who have the stone in stock and compare characteristics and prices to ensure they get the best stone at the best value.
Here's another scenario: A customer comes in your store wanting to sell a vintage 18K Cartier pin. In order to buy smart, you need to quickly know what you can fairly offer your customer, considering that you also want to resell the pin at a profit. In what condition is the pin? Is it worth more than scrap? What is the current price of gold and value of the diamonds? How do you even know if it is an authentic Cartier? These are all important considerations when deciding whether or not you will buy the pin and at what price.
And what about sourcing a new bridal or jewelry line for your store? It is important not only to consider price, but also to know what is trending. Information about your supplier is important too – how have their products and services ranked with other jewelers? Is this a company with whom you could build a good working relationship?
The Jewelry Industry Has Evolved
Gone are the good ol' days of triple key and easy sales. Smart jewelers are adopting tools that not only provide them with key information, but directly help them make better business decisions to lower costs and increase sales and profits.
Online jewelry networks like Polygon help facilitate smarter sourcing and buying for jewelers. By aggregating listings from thousands of diamond, gemstone and watch dealers, jewelry wholesalers and manufacturers, antique and estate dealers and other sellers, jewelers can quickly locate items and compare offers.
Many jewelry business owners work with a select group of suppliers, but moving to a secure online sourcing platform allows you to expand your network exponentially. Prices are transparent, and you get hundreds of suppliers competing for your business – ensuring you always get the best possible prices.
"One thing I like about Polygon is their mission to provide the internet tools retail jewelers need to survive in today's world. Prior to joining Poly in 1999, we used to buy more than 90% of our diamonds from just four suppliers. Today, we buy more than 90% of our diamonds through Polygon. So we've gone from dealing with the same four suppliers, to dealing with hundreds," says Bernie Benavidez from Master Jewelers.
Locating fine and rare items is also much easier when you have a database of thousands of suppliers with whom to work. Now, you can get that 2.50 carat E VVS1 diamond in the next day for your customer.
"A few months ago a local, well-heeled businessman was shopping for a large diamond. Five carat, emerald cut, internally flawless. Most jewelers would have a hard time filling that call on the spot. Not us. I put the request out on Polygon and found the right stone in a few minutes. It was a better price, and we made the sale," says Jeff Hess from Old Northeast Estate Jewelers.
Vintage items and over the counter buys can pose a challenge to some, but when you connect to an online network of jewelers and suppliers, you can rely on their expertise. Polygon's jewelry business forums are a go-to for any jeweler looking for valuable information, and the active participation of some of the brightest minds in the industry has made Polygon's community one of the most avidly sought business tool in the trade. Pricing and other information is now at your fingertips. So it's easy to quickly evaluate what to pay, and what to do with the piece – scrap or resell. You keep your customer coming back and you turn a profit.
Accessing a professional network also means that you can stay ahead of the curve, see what's trending, and find out about a supplier's reputation with other jewelers.
B2B Online Jewelry Sourcing
An online solution designed specifically for jewelry professionals will allow you to find everything you need faster and for less money, 24/7. You will be able to source directly, in real-time, from thousands of reputable sellers and be confident that you never overpay.
Key Benefits:
Find any item you need instantly – Even rare & hard to find items
Get the lowest prices – Save money & increase profits
Reduce your inventory – Source only what you need when you need it
Save time – Get everything you need in one place
Access invaluable information – Buy smarter
Helping Jewelers Grow Their Businesses
With trading activities generating millions of dollars in transactions every day, Polygon.net is the industry's most efficient sourcing, selling and information tool for jewelry professionals.
For almost 30 years, Polygon has helped thousands of members gain invaluable knowledge and find unique trading opportunities that have significantly impacted the year over year growth of their business.
Lindsay Watkin |Polygon.net