Jewelry Business Insight
Slow Sales of Swiss Watches Prompt TAG Heuer to Cut Jobs, Cartier to Reduce Production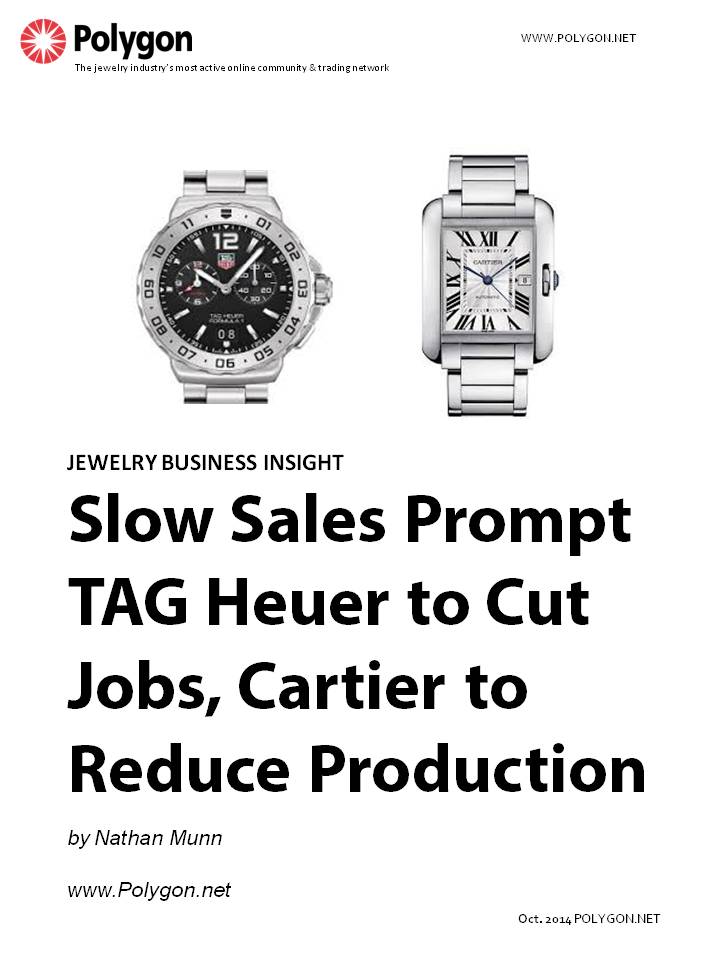 Swiss watch manufacturer Tag Heuer is eliminating 46 full-time positions and will reduce working hours for another 49 employees in response to slowing export growth, reports Bloomberg.com. The production unit affected by the layoffs currently employs around 1600 people, and the 46 positions to be cut are from the management and production departments.
The report also states that Cartier will introduce a shorter workweek for 230 of its factory workers in Switzerland.
The job cuts come in response to slowing global demand for high-end watches. According to the report, the market for Swiss watches grew by 2.7 percent through August 2014, significantly less than the 4 to 6 percent growth forecasted for 2014 by Hublot CEO Jean-Claude Biver.
The slow market growth is blamed on an ongoing crackdown by the Chinese government on extravagant spending by public officials. In recent years, China and Hong Kong have emerged as two of the biggest export markets for Swiss watches: imports of watches to China have grown by an average of 17 percent annually between 2009 and 2012. In 2013 however, Chinese imports of luxury timepieces rose by only 1.9 percent.
Cartier's decision to reduce working hours for production staff is a direct result of fewer watch orders, according to a report by La Liberte on Sept. 26. Affected staff will see their workweek reduced from five days to two starting Nov. 1.
Cartier has previously reduced the working hours of some staff in response to weak orders, in 2009. Employees who had their hours cut at that time were eventually returned to full-time status.
Nathan Munn | Polygon.net