Jewelry Business Insight
Signet Jewelers To Acquire Competitor Zale Corp. in $1.4 Billion Deal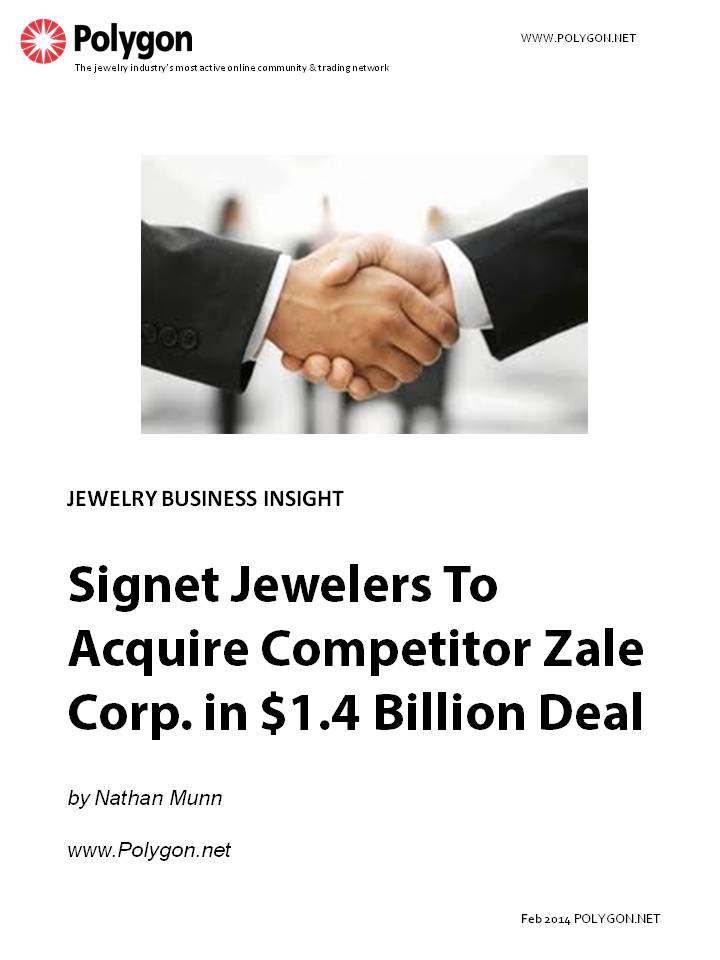 Signet Jewelers - parent company of the largest jewelry retail chain in the United States, Sterling Jewelers – has made an offer to buy Zale Corp., their largest competitor, in an acquisition expected to be worth $1.4 billion.
Demonstrating confidence in the long-term value of the deal, Signet's per-share offer for Zale Corp. is 41% higher than the most recent closing price of Zale on the NYSE. Markets reacted favorably to news of the expected acquisition, with Zale stock up over 40% and Signet stock up 17% on the morning of Feb. 19, the day the news was announced. The deal is subject to the approval of Zale shareholders and government regulators. Boards of directors of both Signet and Zale have approved the acquisition.   
Signet has offered $21 in cash for each share of Zale, a major increase from the less than $1 per share Zale was valued at in 2009. Signet's total cash offer for Zale is in the area of $690 million, according to the Wall Street Journal, however the total "enterprise value" of the deal approaches the quoted figure of $1.4 billion. Enterprise valuations of such acquisitions usually include debt.   
Once the deal is complete, Signet will own about 1,680 Zale stores in the United States, Canada and Puerto Rico, as well as Zale subsidiaries including the Peoples Jewelers and Mappins Jewelers retail chains in Canada. Other chains that will be acquired by Signet as part of the deal include Gordon's Jewelers and Piercing Pagoda.
Theo Killion, CEO of Zale Corp., will reportedly stay on as head of the Zale division as the company's assets are folded into Signet.      
In the U.S., Signet operates over 1,400 retail stores in 50 states, including the Kay Jewelers and Jared the Galleria brands. In the United Kingdom, Signet owns around 500 retail stores, most of which operate under the H. Samuel and Ernest Jones brands.
Nathan Munn | Polygon.net
Get a Free Tour
The jewelry industry's most active online community & trading network