Jewelry Business Insight
Rio Tinto to Offer "Proof of Origin" for Australian and Canadian Diamonds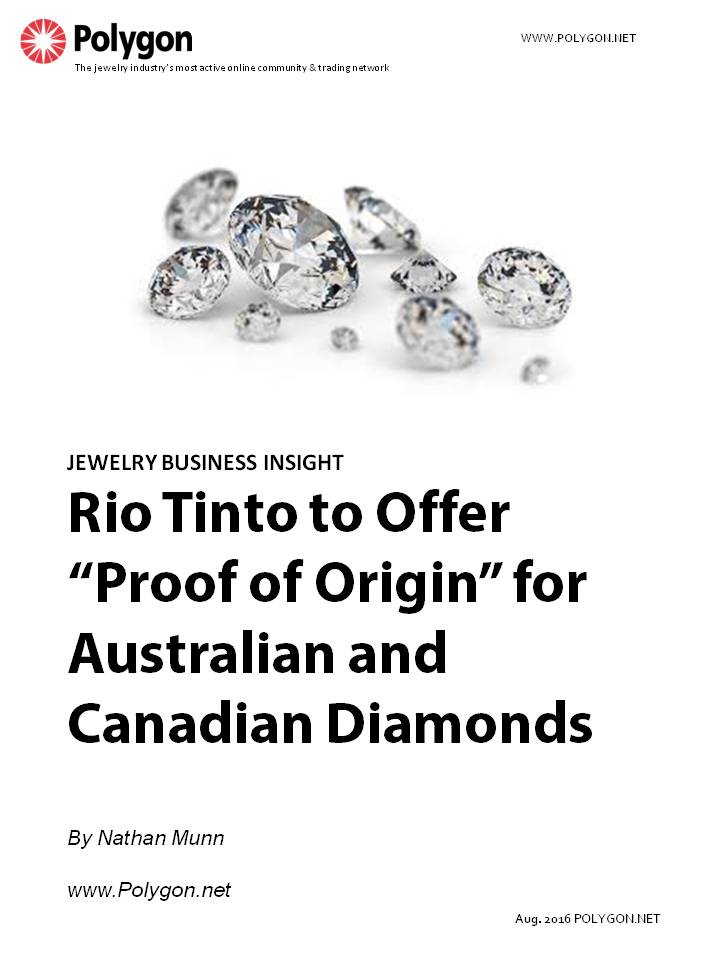 Rio Tinto, one of the largest mining corporations in the world, has announced a new proof-of-origin certification program for diamonds sourced from the company's mines in Australia and Canada.
The first stage of the initiative, called Australian Diamonds, will establish a complete audit trail of diamonds originating from the Argyle mine in Western Australia from extraction to the retail shelf. A similar Canadian Diamonds program, which will track stones sourced from Canada's Diavik mine, is set to launch late in 2016.
According to promotional materials from Rio Tinto Diamonds, the company's "Chain of Custody" program will separate diamonds produced in Australia and Canada into two unique product streams. The streams will then be kept segregated as they wind through the global supply chain, allowing the company to trace stones from their mine of origin, through manufacturers and finishers, and on to retailers.
Beyond sustainability and ethical considerations, the proof-of-origin initiative provides a new marketing angle for Rio Tinto Diamonds: the program delivers proof of stone provenance for manufacturers and retailers, ensuring that no lab-grown synthetic stones are surreptitiously inserted into the supply chain. For diamond consumers - especially young people, who studies have shown have strong concerns about the sustainability of jewelry products - a documented chain of custody helps to allay concerns about blood diamonds, exploitative labor practices and environmental destruction, factors that can mean the difference between window-shopping and a won sale.
Rio Tinto isn't the only organization developing proof-of-origin programs for diamonds. The Gemological Institute of America, De Beers Group and Russian mining giant Alrosa are all pursuing similar initiatives.
To provide an incentive for retailers and manufacturers to adopt the Rio Tinto Diamonds system, according to Rio Tinto Diamonds marketing materials the company is offering "operational support for selected companies" to put the Chain of Custody in place. The materials note that trade participation in the program is by invitation only, limiting the number of diamantaires and refiners who can join.
Nathan Munn | Polygon.net
Get a Free Tour
The jewelry industry's most active online community & trading network