Jewelry Business Insight
Pinterest Adds "Buy It" Buttons For Products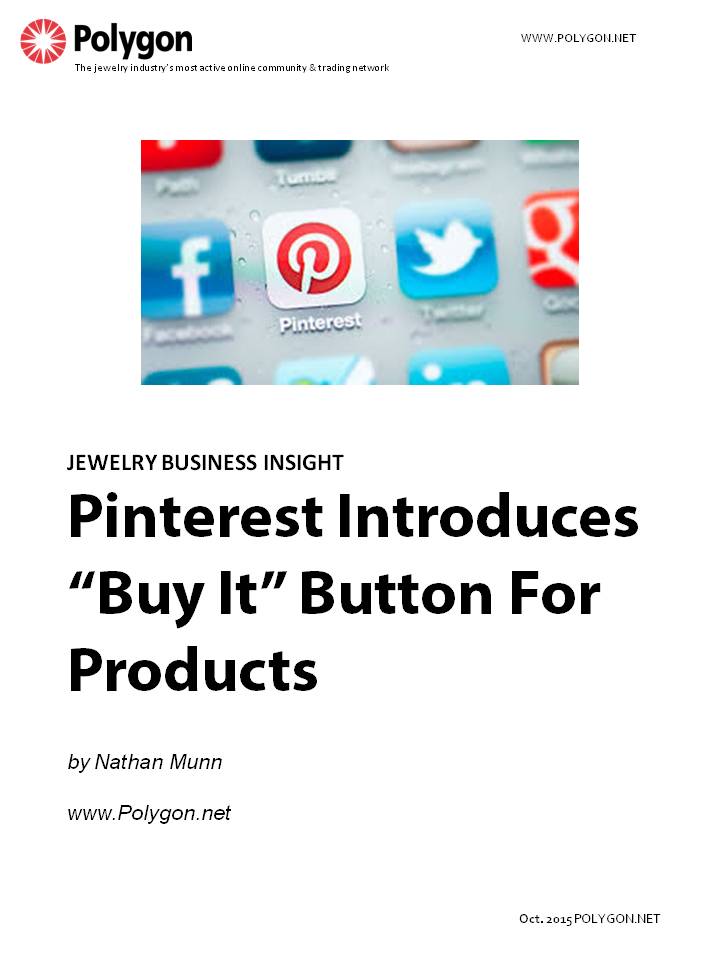 Popular social media platform Pinterest, which counts more than 70 million users, has added "Buy It" buttons to their service to allow customers to buy products directly from retailers on the site.
Major retailers including Nordstrom, Macy's and Neiman Marcus have already signed on to use the new service.
Pinterest has become especially popular among artisanal producers of goods and jewelers thanks to the platform's image-focused design and engaged audience, and users have long voiced a desire for a "buy" option to be added to products listed on the site. Unlike the online marketplace Etsy, which allows craftspeople to sell products but charges up-front fees and takes a percentage of each transaction, Pinterest offers a free service on both ends: retailers can post product listings for free, and sales are not subject to transaction fees.
How It Works
Visitors to Pinterest will see the new, blue "Buy It" buttons next to standard red "Pin It" buttons above products that are available for sale on the platform. By clicking a Buy It button, users will be taken to a checkout screen where they can choose to pay by credit card or Apple Pay. Businesses that work with e-commerce platforms Shopify or Demandware will have Buy It buttons integrated with the products they have for sale on Pinterest.
Because an increasing number of visitors to Pinterest use mobile devices to access the platform, Buy It buttons and the product listings they are attached to have been optimized for small screens. This means that the process of browsing and buying products on Pinterest will be easy for users, an especially important factor in online retailing.
The addition of Buy It buttons to Pinterest represents a significant shift in the company's business model. As a social media platform, Pinterest's primary goal has been to attract an increasing number of users to the service, much like Twitter or Facebook, and then determine a way to generate revenue through advertising or by offering premium services to users. By adding e-commerce functionality to their core service, Pinterest is now effectively becoming a platform for retailers. Other social media platforms have integrated similar "Buy Now" capabilities with their services, with varying degrees of success, but Pinterest's niche as an image-based browsing service that allows users to "Pin" the products they find interesting is particularly suited to online shopping.
By adding Buy It buttons, eschewing fees, and partnering with traditional retailers, Pinterest is now in a position to compete with Etsy and other online marketplaces for the attention of retailers and their customers.
Nathan Munn | Polygon.net
Get a Free Tour
The jewelry industry's most active online community & trading network