Jewelry Business Insight
Panama Gem and Jewelry Center – Phase I Nears Completion in Panama City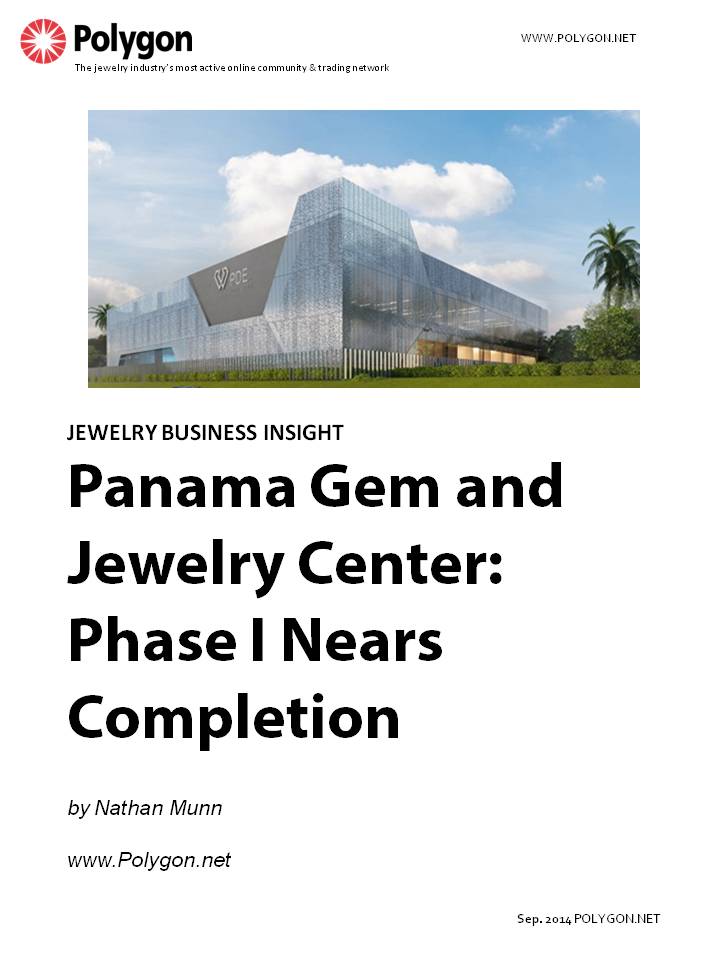 Phase I of the Panama Gem and Jewelry Center - a $200-million architectural project under construction in Panama City, intended to attract companies to Latin American jewelry markets - is on track to be completed in the fourth quarter of 2014, according to an official press release.
The announcement was published by the Panama Diamond Exchange (PDE), which will be headquartered in the Panama Gem and Jewelry Center along with many other local, regional and international businesses. The PDE is the only diamond bourse serving Latin American and Caribbean territories to be recognized by the World Federation of Diamond Bourses. According to Erez Akerman, President of the PDE, around 80 percent of available space in the Panama Gem and Jewelry Center has already been leased to jewelry traders, including established jewelers from the United States, Israel, Belgium and the Netherlands.
The Panama Gem and Jewelry Center is located in an area of Panama City that has been exempted from normal Panamanian taxation and importing duties, a region called the Vaguil Free Zone. According to the PDE website, the Free Zone was created as a result of "legislation approved by the Panamanian parliament for the exclusive benefit of the diamond, gemstone and jewelry sectors". For companies doing business in the Free Zone, import duties are only paid on merchandise that is traded on the local market, meaning that goods that are imported and traded for export are exempt from all taxes. As well, activities including the transfer of personal and real property, the purchasing of construction equipment, or of any good or service required for the operation of a jewelry business in the Free Zone is exempt from regulation and taxation.
According to the press release distributed by the Panama Diamond Exchange, the value of the Latin American jewelry market is currently estimated to be worth $8 billion annually, with a retail presence comprising more than 11,000 retail jewelry outlets located across 20 countries and 23 islands. (The PDE considers the Latin American jewelry market to include Mexico, Central American and South American countries, as well as the islands of the Caribbean Basin.)
Construction work on Phase II of the PGJC is scheduled to begin in 2015 and expected to finish in 2017. The second phase of the project is described as a "multi-story tower", where offices may be purchased outright. Tenants occupying space in Phase I will have the opportunity to purchase space in Phase II ahead of other prospective tenants, says the PDE.
Nathan Munn | Polygon.net