Jewelry Business Insight
NGO's Vow to Boycott Kimberly Process Meetings After UAE Named 2016 Chair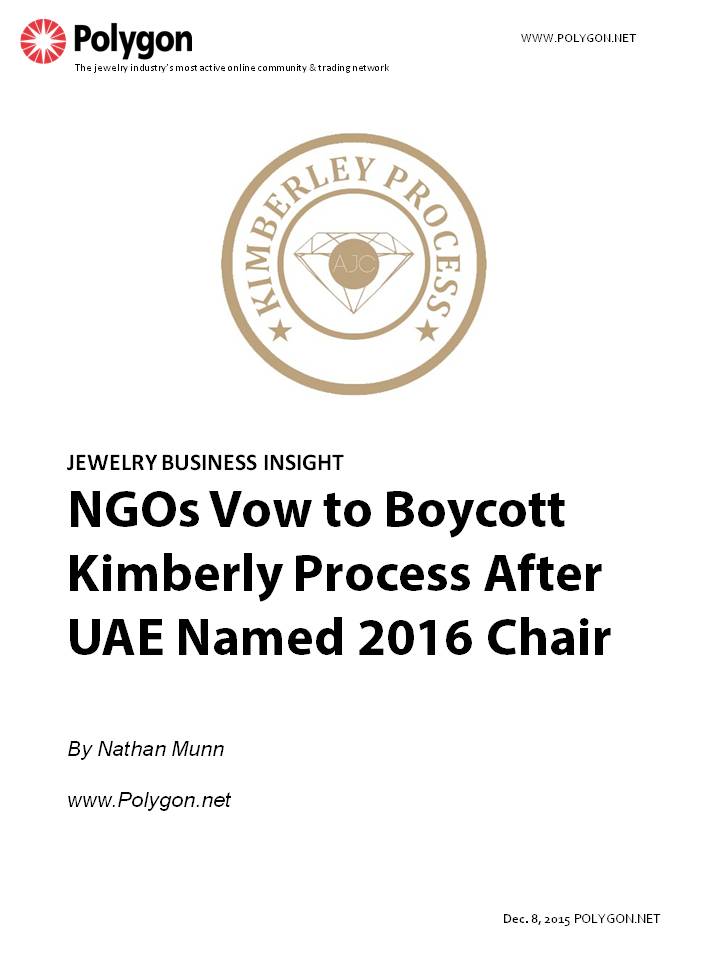 December 8, 2015 - A coalition of civil society advocacy organizations involved in the annual Kimberly Process review meetings has announced that they will boycott the 2016 edition of the gatherings, saying that a decision by industry groups and governments to name the United Arab Emirates as chair of the proceedings crosses a "red line".
The Kimberly Process brings together governments, industry representatives and NGOs in order to address human rights abuses in the diamond trade. As one of the participating governments involved with the KP, the UAE has been heavily criticized by Non-Governmental Organizations for its perceived lax approach to enforcing diamond production standards.
Dubai has become one of the world's most active diamond trading centers, with around $40 billion worth of diamonds trading hands in Dubai every year. The city is a free-trade zone and levies no taxes on imports or exports in the region.
Back in 2014, the acrimonious relationship between Kimberly Process NGOs and Dubai (located in the UAE) had already begun simmering. Before the possibility of UAE being named chair was proposed, NGOs including GRPIE of Cote d'Ivoire had criticized the UAE for the country's lackluster enforcement of import regulations, weak due diligence efforts and the way that Dubai applies transfer pricing to African diamonds.
Dubai Controversies
NGOs, governments and industry executives have reason to be concerned about the way that Dubai does business. In 2014, the Antwerp World Diamond Center seized a package of diamonds coming from Dubai, based on evidence that the stones originated from the Central African Republic. Diamonds from the CAR are considered conflict diamonds and as such are banned under the rules of the Kimberly Process.
At the time, Peter Meeus, chairman of the Dubai Diamond Exchange, disagreed with the assertion that the stones came from the CAR, saying that the provenance of the diamonds could not be established beyond doubt. He also dismissed criticism of Dubai's business practices. Meeus has repeatedly and publicly criticized NGOs involved with the Kimberly Process in the past, but the naming of the UAE as 2016 chair of the KP was apparently the final straw for the NGOs.
Civil Society Coalition
The civil society coalition of the Kimberly Process includes Partnership Africa Canada, Green Advocates of Liberia, the Network Movement for Justice and Development of Sierra Leone, the Reseau de Lutte contre la Faim of Cameroon, the Centre National d'Appui au Developpement et a la Participation Populaire of the DRC, the Groupe d'Appui aux Exploitants des Ressources Naturelles also of DRC, the Zimbabwe Environmental Lawyers Association, the Center for Natural Resource Governance of Zimbabwe, and the Centre du Commerce International pour le Developpement of Guinea.
In response to the planned boycott, the UAE has issued a statement saying that Dubai remains committed to working with the NGOs. 
Nathan Munn | Polygon.net
Get a Free Tour
The jewelry industry's most active online community & trading network