Jewelry Business Insight
The Las Vegas Antique Jewelry and Watch Show Marks 20 Year Milestone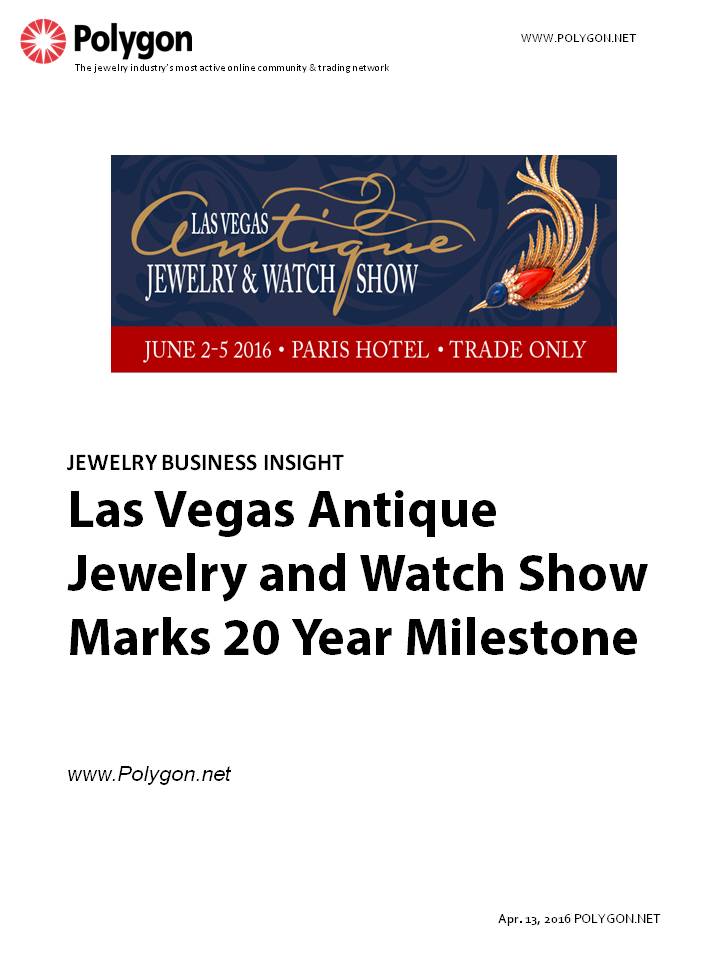 For the last two decades, the largest trade only event serving the antique jewelry and watch industry, the Las Vegas Antique Jewelry & Watch Show, has been a staple during Jewelry Market Week each summer. This year the event will again be held at the Paris Hotel and Casino, June 2-5.
"2016 is a very exciting year for the Las Vegas Antique Jewelry & Watch Show as we celebrate our 20th year as the nation's number one trade event for antique, vintage and estate jewelry," says Dan Darby, Emerald Expositions vice president and U.S. Antique Shows general manager. "In those 20 years, the show has outgrown four earlier venues and now boasts an exhibitor and attendee base from 35 countries."
Polygon members benefit from complimentary online registration (a $30 savings) to the show.
Visit VegasAntiqueJewelry.com to register today. Jewelry trade credentials will be required.
Please visit the Polygon Booth at Antique Show, #2100.
The Las Vegas Antique Jewelry & Watch Show welcomes thousands of jewelry trade experts to view the finest antique jewelry and watches from all corners of the world. The show is dedicated to offering distinguished and unique merchandise with more than 400 exhibitors. Items on the show floor range from the Renaissance to Modern periods and include exquisite gemstone and diamond jewelry, retro watches, cameos and intaglios, flora and fauna statement pieces and more. In addition, elegant signed pieces from famous brands including Cartier, Bulgari, David Webb, Harry Winston, Patek Philippe, Buccellati, Van Cleef & Arpels and many others will be available.
In partnership with onPeak, the Paris Hotel is offering discounted rates for attendees and exhibitors. Staying at this hotel, in the heart of the Vegas Strip, provides quick and easy access to the Las Vegas Antique Jewelry & Watch Show. To book online, visit www.VegasAntiqueShow.com.
Registration is now open for the jewelry trade only. Pre-registration is $30, on-site is $50 for all four days. Show times are Thursday, June 2 to Saturday, June 4 from 11 a.m. - 7 p.m. and Sunday, June 5 from 11 a.m. - 4 p.m. The show opens one day before JCK Las Vegas Show. For more information about the show, call 239.732.6642 or visit www.VegasAntiqueJewelry.com.
Get a Free Tour
The jewelry industry's most active online community & trading network