Jewelry Business Insight
Jewelers Going Digital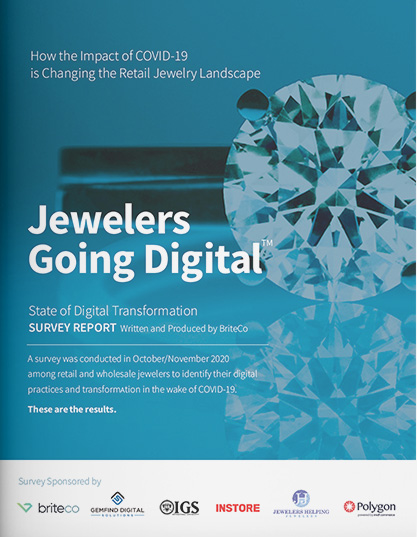 New Report Shows How Jewelers are Adapting to Digital Transformation in the Wake of COVID-19
We're pleased to announce the launch of the Jewelers Going Digital Survey Report!

Report results are based on a survey launched to retail jewelers and jewelry businesses in late 2020. The main goal was to see how COVID-19 has impacted jewelry businesses, specifically considering an accelerated digital transformation brought on by restrictions and closures.
Interestingly, though 49% of jewelry businesses were closed for 2 months or more last year, sales did bounce back for 50% once reopened, with sales strongest in engagement and self-purchasers.
Download the full report at jewelersgoingdigital.org
Key Findings:
58% of retailers posted more on social media, and 60% said Facebook was their best ROI
52% of jewelers saw an increase in their online traffic, but 9% of respondents said they don't currently have a website, and 49% of jeweler respondents with a website are not offering e-commerce
Retailers who saw the biggest downturn in sales were those who stopped advertising or who don't advertise at all (27%)
Key Takeaways:
To survive and thrive, jewelers must leverage digital tools to transform their businesses and engage customers where they live… online and on their smartphones.
Jewelers should focus on improving their websites and social media to promote interaction online as well as sell through e-commerce.
About the Research
The survey was launched in late 2020, with 450 responses, and more than 200 retail jewelers from throughout the US completing the survey. The goal was to gain insight as to the impacts of COVID-19 on jewelry businesses, specifically in the wake of a digital transformation taking place at large. Survey partners and sponsors included Polygon, powered by mdf commerce, BriteCo, GemFind Digital Solutions, International Gem Society (IGS), the Jewelers Helping Jewelers Facebook Group, and INSTORE.
The full report and other resources are available at jewelersgoingdigital.org