Jewelry Business Insight
Jewelers Board of Trade Introduces Credit Rating Monitoring for Retailers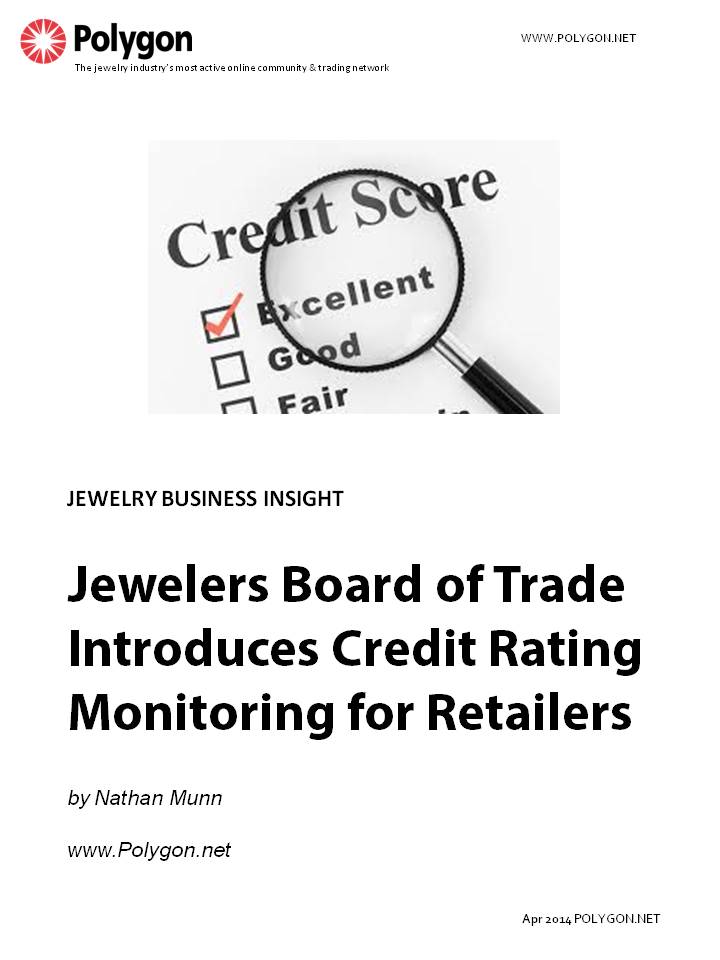 The Jewelers Board of Trade, which describes itself as "the only organization dedicated solely to providing credit reporting, collections and marketing services to the jewelry industry", has introduced a subscription-based program allowing retail jewelers to monitor their JBT credit rating score on a monthly basis.
A subscription to the service, called RatingWatch, costs $199 per year and provides retailers with a detailed analysis of their JBT credit rating every month. The credit rating issued by JBT is based on payment information provided anonymously by suppliers and other creditors, which has caused some controversy among retailers because JBT does not disclose the identities of parties submitting credit information.
In an interview with JCK Online, Jewelers Board of Trade president Dione Kenyon conceded that retailers have legitimate concerns regarding anonymous credit reporting, but explains that without the system, creditors would be less likely to share information at all. "I understand that people want to know who is reporting on them," said Kenyon. "The fear is that if names were disclosed, those people sharing credit information would not share it, and there would be no ratings."
As part of a RatingWatch subscription, retailers have access to an interactive form that allows them to submit feedback about their JBT credit score. Kenyon also explains that retailers who have complaints regarding their credit rating from JBT are welcome to contact the Board directly to discuss the situation.
Kenyon says that JBT members, who have access to the company's trade directory of more than 70,000 jewelry related businesses, as well as companies listed in the JBT directory have been asking for a way to access and monitor their JBT credit ratings. RatingWatch is the product that JBT has developed to address this demand.
Importantly, subscribers to the RatingWatch service do not become JBT members as part of the subscription, and RatingWatch subscribers are unable to pull reports on companies other than their own. Despite the limitations of the credit reporting service, Kenyon sees substantial value in the RatingWatch product.
"It's establishing a formal channel of communication between JBT and retailers. We can not only update them, but say if they have a zero pay rating, they can give us additional supplier names," said Kenyon.
The Jewelers Board of Trade is a non-profit organization, and was founded in 1884.
Nathan Munn | Polygon.net
Get a Free Tour
The jewelry industry's most active online community & trading network