Jewelry Business Insight
Jeweler Sues Online Commenter Over Negative Review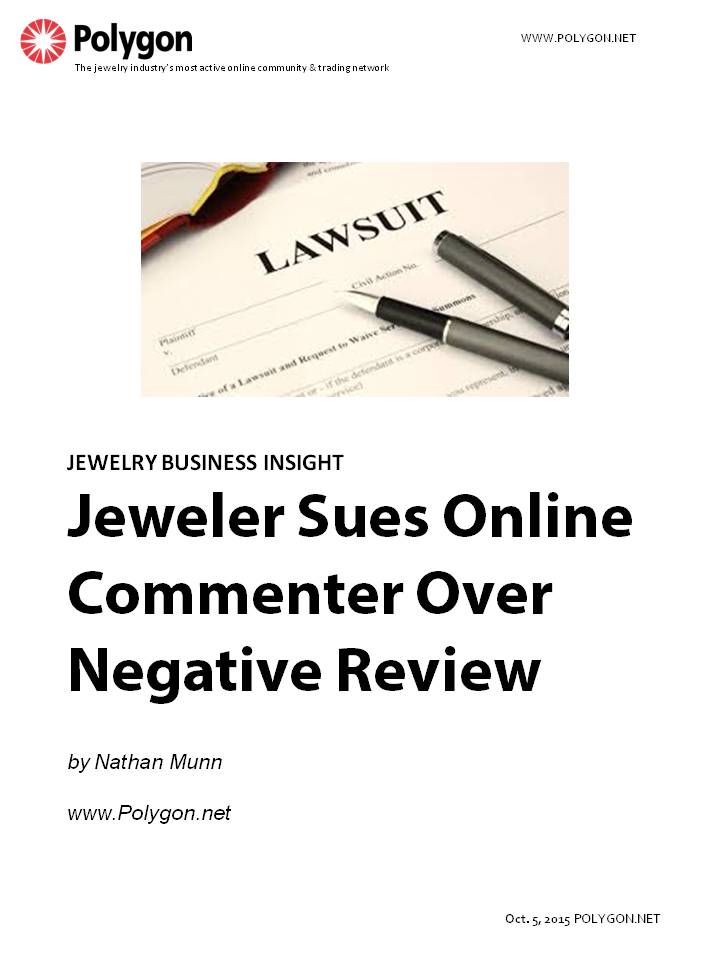 October 5, 2015 - In a precedent-setting ruling that has implications for retailers, their customers and web companies alike, a municipal judge in Massachusetts has ordered online review platform Yelp to hand over the identifying data of an anonymous commenter who left a negative review about a Boston-area jeweler.
Jeweler George Pelz is co-owner of Pageo Jewelry, which has stores in Boston, Nantucket and Newton, MA.  In February 2015, an anonymous internet user (using the handle Linda G.) posted a negative review of Pageo on Yelp, claiming that the store had treated her poorly when she returned to sell some of the jewelry she had purchased at the store on previous occasions. According to the comments posted by Linda G., Pelz offered her "peanuts" for the jewelry, which she sold back to him anyway, saying that she had been in an abusive relationship and needed the money to escape her circumstances. The review posted by Linda G. further claimed that she had been a major customer at the store and warned people to "run" from Pageo, saying that goods at the store were "way overpriced". 
Pelz contacted Yelp to request the removal of the negative review, but after reviewing the comments made by Linda G., Yelp decided the review was legitimate and declined to remove it. Pelz then posted his own response to the comments, calling Linda G. a "Yelp Terrorist", which prompted Linda G. to write more unfavorable comments. Pelz decided to sue and filed a lawsuit (against Linda G. Doe) in Boston municipal court for libel and defamation. As part of the lawsuit, Yelp received a subpoena to release the identifying details of Linda G., which it did.

Precedent-Setting Case
The case is attracting attention from businesses, legal experts and civil rights advocates as the decision to compel Yelp to release Linda G.'s information to Pelz's legal team touches on issues of free speech, anonymity online and privacy. While more than a dozen states in the U.S. have rules about when an anonymous internet user's personal information can be revealed, in Massachusetts the issue has not been settled by the courts. In an interview with Ars Technica, attorney Paul Levy, who is representing Yelp, noted that he would "like to be involved with the first case in a state".
While Pelz previously claimed that he did not know the real identity of Linda G, on Sept. 24 JCK Online reported that they received an email from Pelz stating that he now believes he knows who Linda G. is, thanks to the information provided by Yelp: a customer of the store who last made a purchase more than 10 years ago. 
Nathan Munn | Polygon.net
Get a Free Tour
The jewelry industry's most active online community & trading network