Jewelry Business Insight
Interview with Danny Baruch of Diamonds by Israel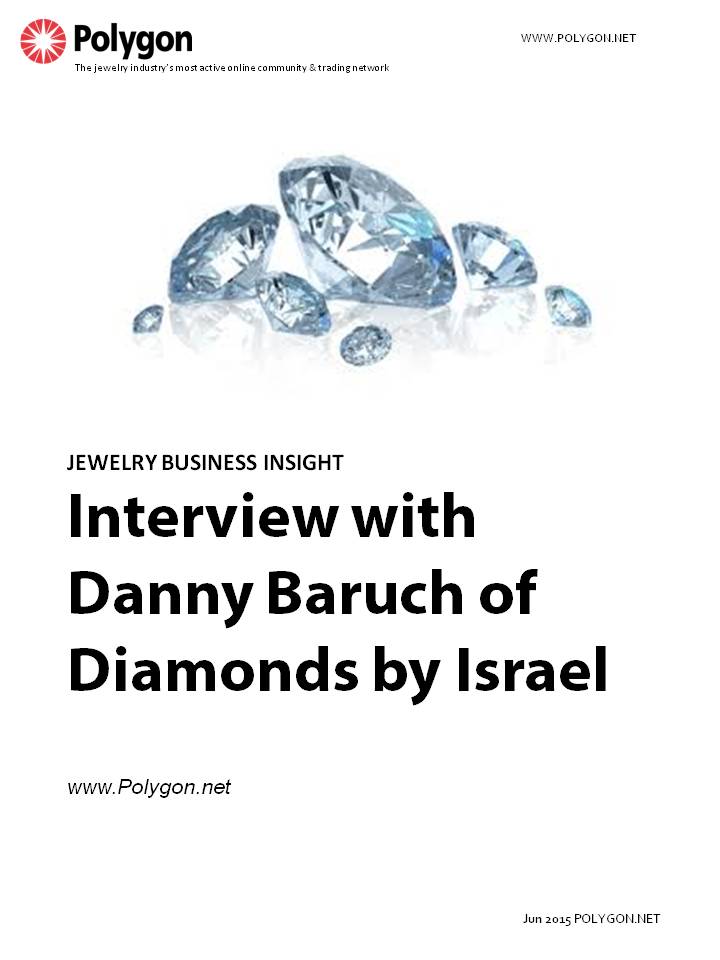 Interview with Danny Baruch from Diamonds by Israel Standard Inc., a diamond wholesaler based in New York City.
Polygon: Do you deal in gem-quality lab-grown diamonds?
Danny Baruch: Yes, we do.
Have you noticed an increase in customer interest in lab-grown diamonds? If so, in what context do you find people are becoming interested in the product?
It's mainly the price point that is the selling factor. Every diamond is laser inscribed with the IGI report number so that you're able to identify that it's a lab-grown, versus a mined diamond.
And is that considered a certificate of authenticity?
Yes, it's a report that allows people to differentiate between a lab-grown and natural diamond.
Another thing that is good about lab-grown is that they are being branded as eco-friendly and conflict-free. We're getting a few customers from each side; [they are interested in] the environmental side, and the conflict-free side.
Have you seen an increase in undisclosed lab-grown diamonds showing up in shipments of natural stones?
I've never experienced that, no.
A large scale production facility for lab-grown diamonds recently opened up in Singapore. Do you think the increased production of gem-quality lab-grown stones will have an effect on prices of natural diamonds?
I think it's still new to the market, so it's hard to tell. I think it's just going to be a niche, just like clarity-enhanced and HPHT.
Read our Industry Report about lab-grown diamonds in the jewelry industry in 2015.
Research indicates that a supply gap is projected to emerge as a result of slowing production of natural diamonds and increasing demand for gem-quality diamonds. In light of this research, where do you think the diamond market is headed in the foreseeable future?
That's a good question. I believe that if there is a shortage, that lab-grown will definitely be in a position to help replace [natural] and to supply that demand.
What do you think is an appropriate price point for lab-grown diamonds vs. natural diamonds?
At the end of the day, just like a natural diamond, you're here to make money, which is the driving point – but [lab-grown] are more affordable than natural. Right now, there's about a 30 to 35 percent difference between a lab-grown and a mined diamond.
And you feel that's appropriate?
I believe so, yes. It's not a Moissanite or CZ. At the end of the day, [lab-grown diamonds are] type IIa material, which is the same as 3% of the Earth's mined diamonds.
Do you think that the established powers in the diamond industry, such as De Beers Group, face any sort of existential threat to their business model in a future where lab-grown diamonds play a bigger role in the market?
I don't believe so. From my understanding, De Beers actually holds some patents on the CVD process as well. They are very aware of it.
Nathan Munn | Polygon.net
--
This interview has been edited for clarity.
Thanks to Danny for taking the time to answer our questions. Diamonds by Israel is a wholesale provider of both natural and lab-grown diamonds. Interested buyers can contact them by email at diamondsbyisrael@gmail.com or by phone at (212) 575-9350.