Jewelry Business Insight
Integrating Online Sourcing in Your Retail Jewelry Store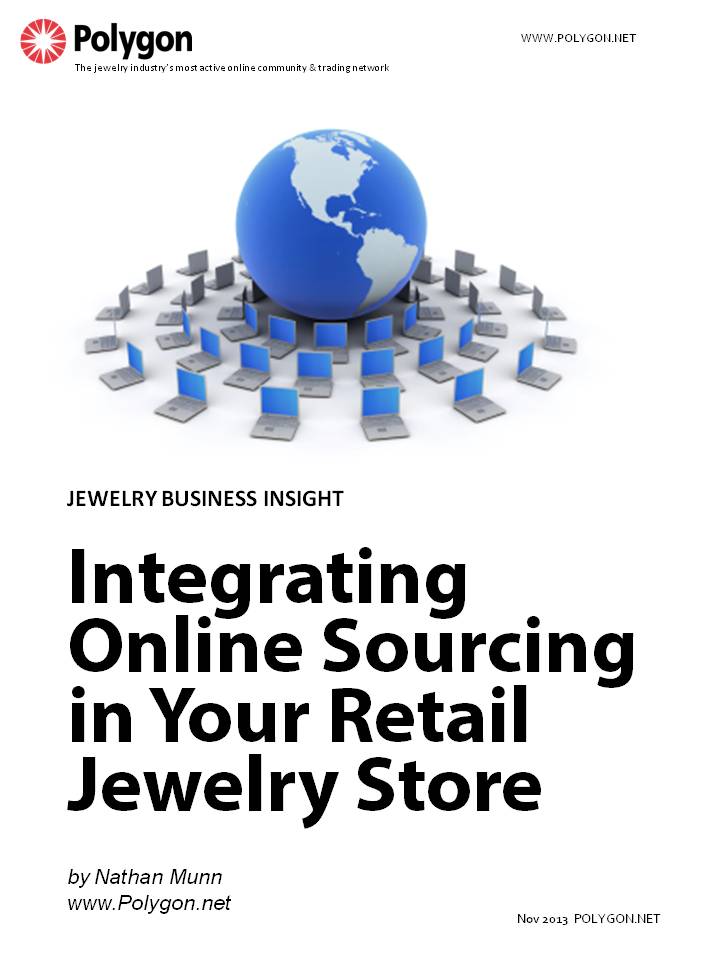 Retail jewelers are coming to understand the value of online sourcing and are adopting online technology and strategies in their day to day activities. In today's highly-competitive retail landscape, a jeweler who is able to offer their clients an expanded range of products is at an advantage; a jeweler who can also offer very competitive prices is even better positioned for success.


Long Tail, Happy Customers, Reduced Costs
Integrating an online sourcing platform within your day-to-day retail operations is one of the most beneficial and cost-effective business decisions you can make for your jewelry business. Think about it: what are the potential advantages of having a dramatically-expanded product offering, instant search-and-find for any type of gem or jewelry item, flexible markups, and real-time answers to customer inquiries? The answers are more sales, reduced costs, happier customers and ultimately a more effective and efficient business model. 
Compared with traditional methods, online sourcing allows you to search for, find and sell practically any type of gem, size or quality of diamond, style of jewelry or watch brand. Do you ever get a customer in looking for something really different or unique? A Van Cleef & Arpels 1940's pin? A 2.01 princess fancy vivid pink with GIA cert? How do you currently answer this type of request?
One key advantage of online sourcing is that it allows you to tap into the long tail – the rare, hard to find, and one-of-a-kind items – and get those pieces quickly. In turn, you never have to turn a customer away; he or she leaves happy, and you've increased your chances for repeat business down the line.
John Stafford of Stafford Jewelers in Centerville, Ohio has been a Polygon member since 1988. He has seen the value of using an online sourcing network first hand: "We had a client that wanted to buy an almost million-dollar diamond. Within 10 minutes on Polygon, I had 3 different stones to offer." 
As a retail jeweler, online sourcing can also help to reduce inventory carrying costs and risk. Because you can locate practically any item in the virtual world, you can stock less and sell only what you buy.
 "Until recently, to make the sales, I had to carry a huge inventory — hundreds of loose stones, from thirty-five pointers to two carats, in many shapes and qualities, and four watch brands, heavily stocked," says Uncle Marty from Kron Jewelers in Georgia. "Polygon changed those days forever." 
Don't guess at what your customers will buy; stock only your top sellers, and source the rest on the spot.
While online sourcing doesn't replace the face-to-face networking opportunities of trade shows, many gem & jewelry professionals have found that they can significantly reduce travel costs by using a B2B network. You don't have to attend a trade show to source a new line or supplier; you can do so any time, online. Not to mention, it's much easier to compare offers, prices and services in an aggregated online tool.
Jeffrey and Katrina Hess run one of the most successful jewelry businesses in St-Petersburg, Florida. They have been members of Polygon since 1987 and say they "don't know how it's possible to survive in the jewelry business these days without Polygon."  They source and sell actively on the network because they are able to find "everything they need, faster and for less (than on traditional sourcing channels)."
Search with your Customers & Include Your Mark-Ups
Some B2B networks like Polygon also offer the added benefit of being able to source directly with your customers in store. Let's say a walk-in client comes in looking to replace a lost diamond for a ring; it is not a stone you have in your inventory, but a quick search tells you that there are 12 dealers in your online network have this diamond in stock. With your customer in-store, you pull up the matching listings for which you have already included your mark-up. You're able to look through the stones with your client, narrow it down to the top 3, get those on memo the next day, and close the sale. And because dealers are competing with each other in a transparent market, you're going to get the best possible prices and in turn, pass these savings on to your client.
Leonard's Jewelers out out North Carolina have been Polygon members since 1990: "With a hundred years experience, we've developed a lot of contacts and a lot of expertise. And we certainly know where to buy diamonds. We buy them on Polygon. You just can't beat the convenience of typing out a request and in a few seconds having it reach thousands of sources worldwide."
Nathan Munn | Polygon.net
Get a Free Tour
The jewelry industry's most active online community & trading network