Jewelry Business Insight
Hoover & Strong and Polygon Launch myAuction for Polygon Retail Jewelers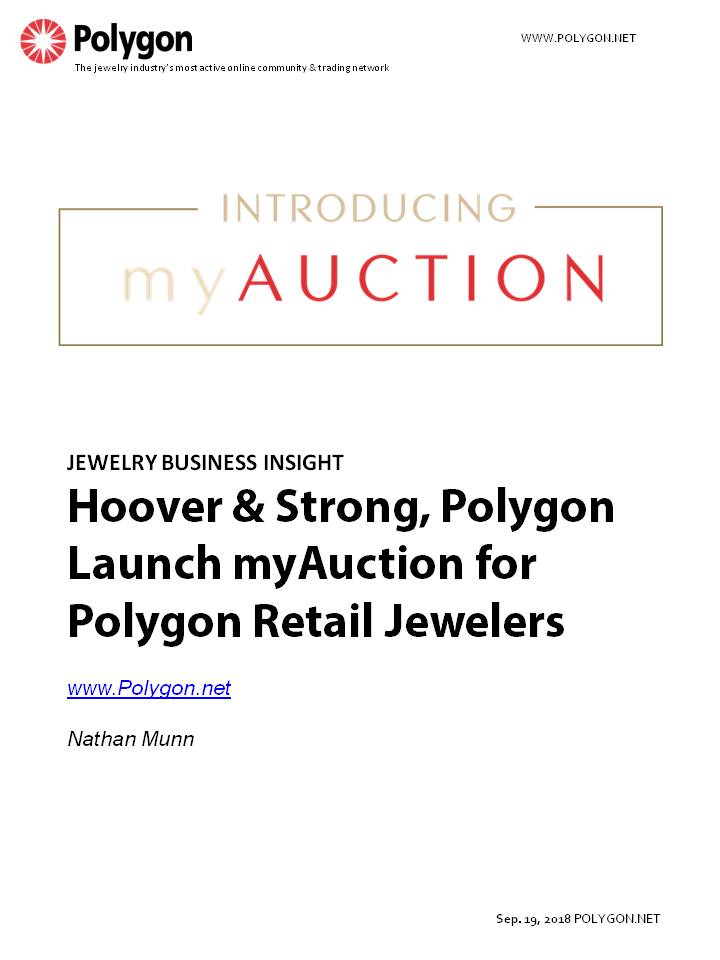 Hoover & Strong and Polygon announced today that the myAuctionTM service will be available to all Polygon retail jewelers as part of their membership, accessible directly on the member platform (www.polygon.net).
The innovative myAuctionTM service allows retailers to take in goods directly from customers, and include them in a professional diamond auction. Customers have complete transparency, with the ability to follow their items and bids online in real-time. They also have final say when it comes to accepting or rejecting the final bid, which gives them not only total control, but also complete reassurance in the process.   
"One of the biggest challenges in buying goods off the streets is developing a trust relationship and reassuring your customer that they're getting the best value for their goods," says Shelly Katzir, Diamond Auctions Manager at Hoover & Strong. "The myAuctionTM service allows customers to feel at ease, and that they're getting the most for their jewelry."
Better yet, retailers can brand the service as their own while taking advantage of Hoover & Strong's end-to-end service. Customers leave their items with the retailer, who submits them to Hoover & Strong. Goods are inspected, photographed and graded at Hoover & Strong's facilities, and entered in the auctions, accessible to hundreds of wholesale buyers. Moreover, because Hoover & Strong takes care of the grading and inspection, anyone on staff can take goods in – not only those who are experts in diamond valuation.
Once a bid is accepted by the customer, the sale is guaranteed and payment is processed within 24 hours. The retailer gains a happy customer, and a commission for every item sold! There are no fees if the customer rejects the final bid, and goods are simply shipped back.
"So far, we've had great response," says Katzir. "We've been working with a select group of retailers, and have found that with an average of only 2 items per month entered at auction, retailers can earn over $10,000 in commission."
As part of the partnership, Polygon members are pre-approved to participate in myAuctionTM. Retailers can access the auction console directly via the Polygon member platform.
Earlier this year, Hoover & Strong and Polygon announced a partnership whereby all Polygon members could access Harmony Diamond Auctions through their Polygon accounts. Both buyers and sellers have been excited by how quick, seamless and transparent the process is. So far, over 4,300 diamonds have sold at auction. Harmony Diamond Auctions are held twice a month (Mondays-Wednesdays), and feature single diamonds larger than 0.40ct or parcels of diamonds larger than 0.20ct with a minimum carat weight of 1.00ct.
To learn more about the Harmony Diamond Auctions or myAuctionTM, call 1-800-759-9997, Ext. 164 or visit www.hooverandstrong.com/diamond-auctions

About Hoover & Strong:
In business for over 106 years, Hoover & Strong is the leading US precious metals manufacturer of over 30,000 environmentally and socially responsible jewelry products and services. All Hoover & Strong products are Made in the USA from Harmony Recycled Precious Metals. They also offer contract casting, diamond setting, assembly, finishing, eco-friendly refining and diamond auction services.
Hoover & Strong – Your Responsible and Ethical Source
2008 - Hoover & Strong became the first jewelry manufacturer to produce all of their 30,000 mill and findings products with 100% recycled Harmony gold, platinum, palladium and silver.
2009 - Hoover & Strong became the first manufacturer to be independently third-party certified by SCS Global Services for the recycled content of its Harmony products.
2010 - Hoover & Strong began offering Harmony recycled diamonds and responsibly-sourced Canadian diamonds.
2012 - Hoover & Strong's refinery received the Responsible Source Certification from SCS Global Services. With 80% less chemical usage and zero waste-water discharge, the refinery is the greenest in the world.
2013 - Hoover & Strong became the first U.S. jewelry manufacturer to bring certified Fairmined gold and silver to America's jewelry market.
2015 - Hoover & Strong introduced their online Harmony Diamond Auctions, allowing diamond buyers and sellers an easy-to-use, cutting-edge platform for buying and selling recycled diamonds.
2016 - Hoover & Strong introduced myAuction - a revolutionary way for jewelers' customers to sell their diamonds or diamond jewelry at the highest prices, using the online auction platform. These auctions, in turn, create additional revenue for the jewelry stores, with no risk or upfront costs.
2017 - Hoover & Strong introduced Lab Grown Diamonds, the most technologically advanced and sustainable alternative to mined diamonds at a more affordable price.
About Polygon:
Since 1984, Polygon has worked with thousands of jewelers and gem & jewelry business owners to help them grow their businesses. The membership-based network provides a secure online platform for vetted members of the industry to exchange ideas, access business intelligence, reports and pricing information, and trade in loose diamonds and colored stones, jewelry, fine watches, estate/vintage, coins, metals and more. In addition to their online services, Polygon also hosts several in-person trade events.