Jewelry Business Insight
The FTC is Increasing Regulation of Social Media 'Influencers'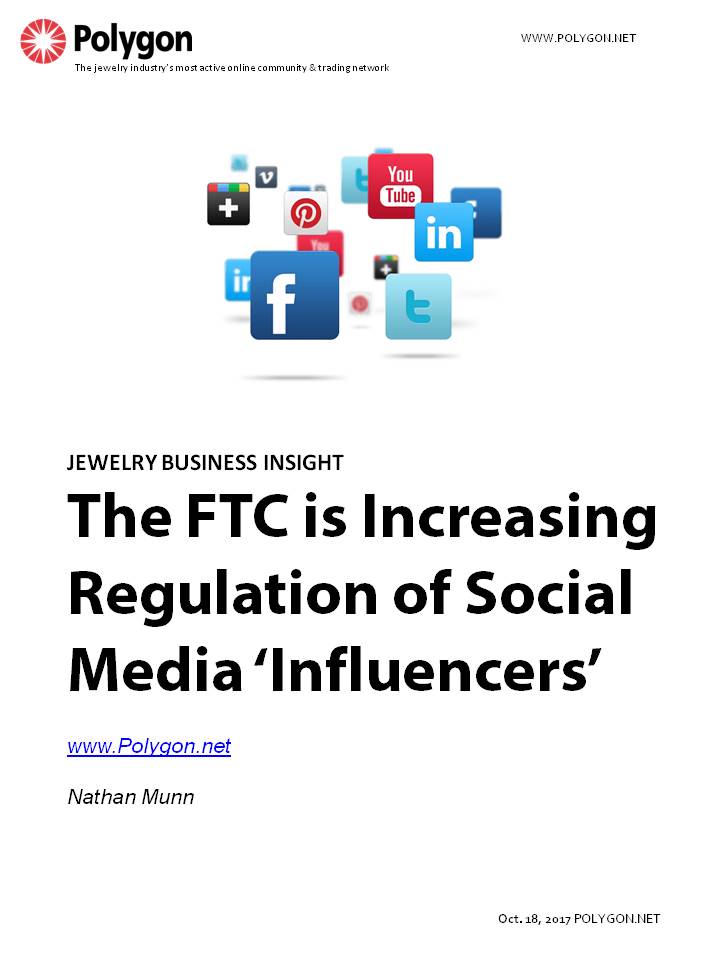 While social media marketing is a relatively new strategy for many brick-and-mortar retail jewelers, platforms including Instagram, Pinterest and Youtube – alongside the ubiquitous Facebook and Twitter – have proven to be effective drivers of engagement and sales for chain retailers and boutique jewelers in recent years.
Within social media, the concept of "influencer marketing" – when an influential user of social media shills for a product in content they create – is also fairly new, but it has become popular enough that the U.S. Federal Trade Commission has taken notice.
On September 7, the FTC announced that two well-known social media influencers, Trevor Martin and Thomas Cassell, settled charges brought against them by the Commission alleging that they had endorsed an online gambling service on social media without disclosing that they own the company.
Martin and Cassell co-own a website that allows players of the popular online multiplayer game Counter-Strike: Global Offensive to gamble virtual items from the game, called "skins". (These items can be bought and sold with real money.) The FTC alleged that, in addition to creating Youtube videos that promoted their website without disclosing their interest in the company, the two paid other popular players of the game to create video endorsements of the site without disclosing that they were being paid to do so.
The crux of the FTC's argument is that, while the videos endorsing the website are for all intents and purposes advertisements, they are designed to appear to be nothing more than user-created content – in essence, a digital version of the 'word-of-mouth' marketing that advertisers love because of the method's proven influence on consumers. The FTC's concern is that by creating paid content that looks and feels like user-generated content, social media influencers push advertisements that - absent the proper disclosures - cross the line into deception.
The terms of the settlement require Martin and Cassell to "clearly and conspicuously" disclose any connection between themselves and products or services they promote in the future. The terms also extend to third-party influencers engaged by Martin or Cassell to endorse any product or service on their behalf.
Taking a Harder Line
The charges and resulting settlement show that the FTC is taking a harder line against social media users who accept cash or gifts to promote products or services without explicitly disclosing the commercial nature of the endorsement.
In April 2017, the FTC sent nearly 100 "educational letters" to social media influencers and brands informing them that any material connection with a product or service they are promoting must be clearly disclosed in their content. In September, the FTC followed up with another 21 warning letters to influencers deemed to be in violation of FTC recommendations, and cited specific content posts as examples of deception.
It's unclear what steps the FTC will take against influencers who do not adhere to the Commission's recommended guidelines.
Nathan Munn | Polygon.net