Jewelry Business Insight
De Beers Group Invests Additional $5 Million in Surat Diamond Screening, Grading and Verification Facility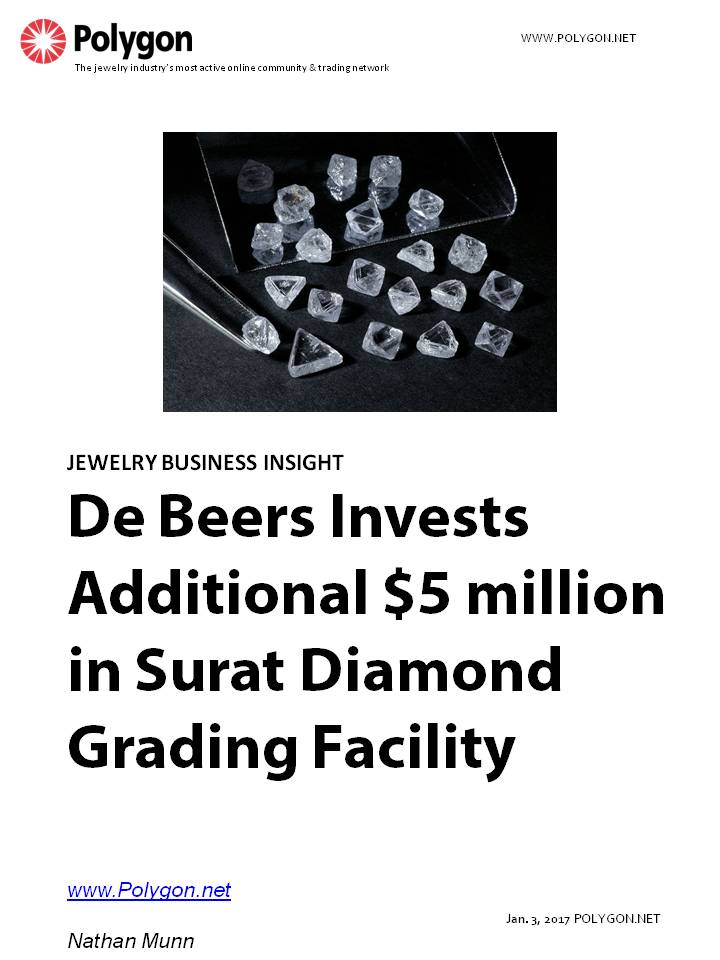 The De Beers Group of Companies has invested a further $5 million in its International Institute of Diamond Grading and Research (IIDGR) facility, which provides diamond-related services including grading, verification and melee screening and testing in Surat, India.
President of the IIDGR Jonathan Kendall said in a statement that "India is vital to the diamond industry, and the diamond industry is vital to India," noting the cutting and polishing services that Indian companies provide while also mentioning Indian consumers' strong demand for diamond jewelry.
"Through the IIDGR, De Beers Group is investing in innovations to ensure [that] India maintains its position as a global diamond hub," Kendall said.
The Surat facility was founded by De Beers in 2015 with a $10 million investment. De Beers says that approximately 90% of all rough diamonds on Earth are cut and polished in India, accomplished by around 800,000 skilled workers in the country.
According to the IIDGR website, the Institute offers two types of grading and identification reports for polished diamonds: a 1:1 scale diagram of a diamond with details about the stone's carat weight, colour, clarity and cut; and a four-C's examination of unset diamonds weighing between 0.10 and 1.99 carats. The reports are available only for natural diamonds.
In another press release announcing latest investment in the Surat facility, De Beers said that the money will be used to add an additional 10,000 square feet of floor space to the IIDGR, growing the facility's total footprint to 25,000 square feet. Some of the funds will also go toward education for professionals in the Indian diamond industry to expand their knowledge of synthetics, diamond evaluation and other topics.
In addition to their core offering, the IIDGR sells specialized equipment to identify HPHT stones and other synthetics. The Automated Melee Screening (AMS), DiamondSure, PhosView, DiamondView and DIamondPlus machines are used to detect various types of treatments, as well as lab-grown diamonds.
The investment in Surat reaffirms De Beers' commitment to the natural diamond industry and also represents a diversification of revenue streams for De Beers Group: through IIDGR, De Beers can offer diamond-related services as well as education about natural diamonds generating new revenues while investing in the natural diamond industry.
On December 19, De Beers Group announced that sales of rough diamonds during the 10th sales cycle of 2016 jumped by 69% year-over-year, to $418 million, up from $248 million during the same period in 2015.
Nathan Munn | Polygon.net