Jewelry Business Insight
Blue Nile Bought Out By Private Investment Firms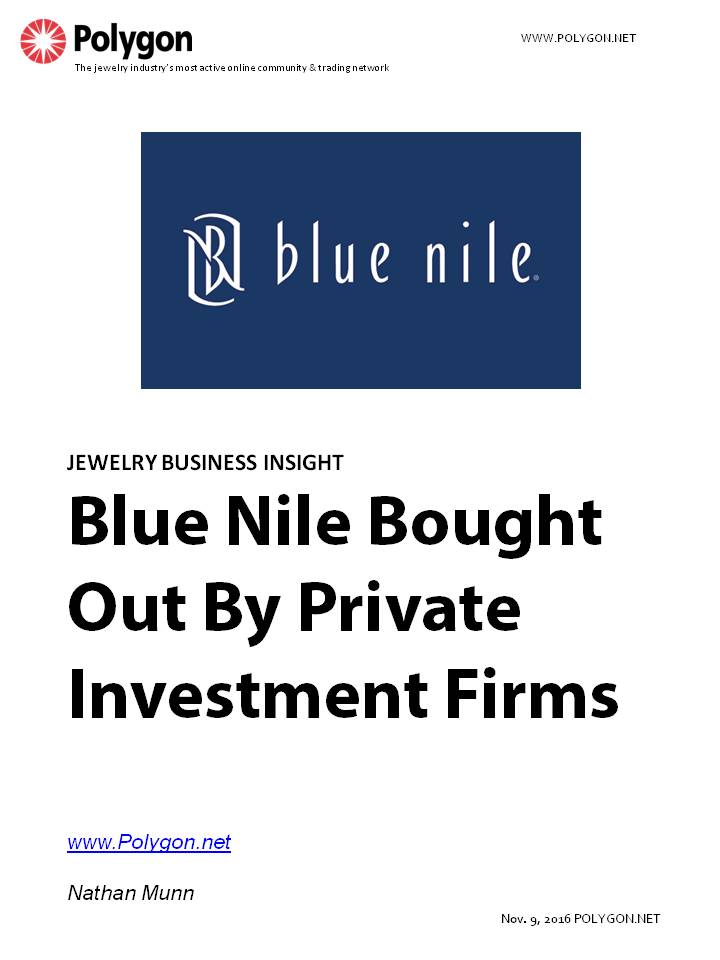 Online jewelry retailer Blue Nile, which went public in 2004, is being acquired by Bain Capital Private Equity and Bow Street LLC for half a billion dollars.
According to news reports, Bain paid $40.75 in cash per share of Blue Nile, handing shareholders a 34% premium over the last closing share price posted before the deal was announced on November 7. The Blue Nile deal includes a 30-day provision whereby other interested buyers can make offers for the company before the sale to Bain is considered final.
The first steps towards the privatization of Blue Nile kicked off in June of this year, when ex-chairman Mark Vadon and two holding companies collectively purchased a 5 percent stake in the company, taking ownership of more than 580,000 shares but remaining in a passive role in regards to the e-tailer's daily operations. 
Blue Nile's latest quarterly results underwhelmed investors, feeding sentiment in the jewelry industry that going private would be the best decision for the company.
Blue Nile stock has dropped by 18% this year, putting pressure on the company to do more to drum up revenues and earnings. Sales reached $480.1 million in 2015, but 3rd quarter earnings in 2016 fell to $1.29 million, down from $2 million in the 3rd quarter of 2015.
Headquartered in Seattle, Washington, Blue Nile was founded in 1999. In recent years the company, which was previously an online-only business, has worked to expand its footprint in the physical realm, opening several "webstores" in Seattle; Portland, Ore.; White Plains and Garden City, NY; and Tysons Corner, VA.
The webstores don't sell jewelry, however. The outlets - similar in design to Apple stores, with clean white surfaces and minimal furniture - are outfitted with computer terminals that allow shoppers to browse and order fine jewelry from the Blue Nile website.
Some industry commentators have noted that the webrooms risk changing Blue Nile's tax status, which could adversely affect the company's revenues. Blue Nile has thus far benefitted from sales tax advantages thanks to its online-only business model.
Nathan Munn | Polygon.net