Jewelry Business Insight
Wouldn't it be nice if getting all of the money from jewelry repairs prices was as wonderfully guaranteed as the perfume & cologne ads show for getting the person of your dreams?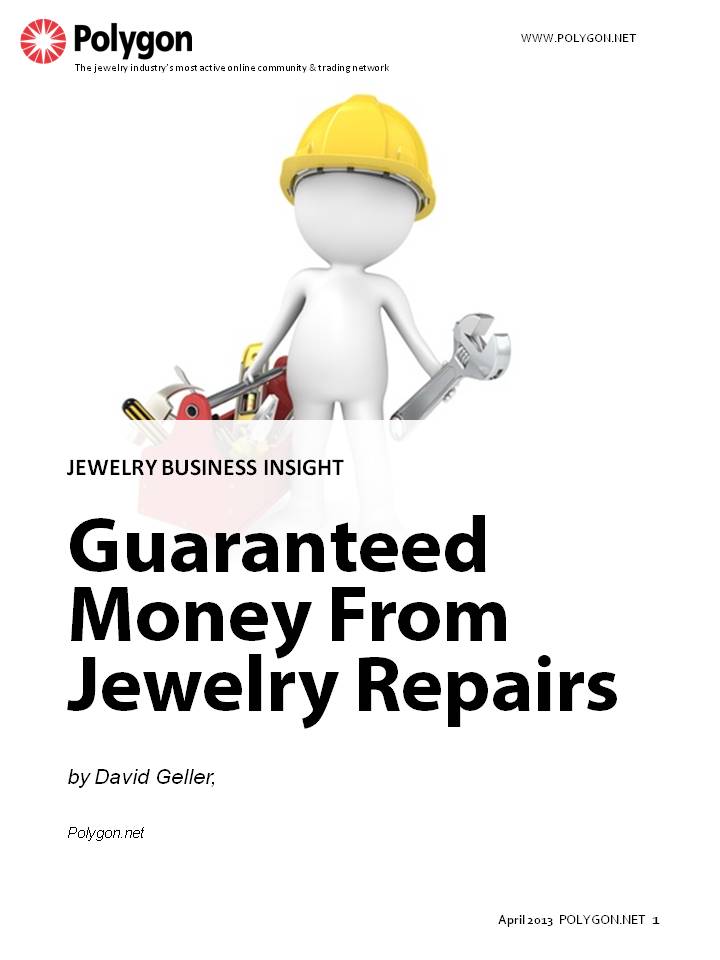 We see the ads for men and women's cologne all the time. You sit in your chair; watch the commercials and dream of your secret lover. Someone, who will "take you away from all of this.
Just think a plain old guy like you, with a few dashes of Brut or Old Spice and the girl of your dreams is all over you. You're in heaven. Life couldn't be better. We haven't even talked about your 5 speed convertible.
Or you're an "average" woman that men just can't wait to listen to your every word or take you out for a dance. Later, champagne and low lights...Who knows what the night might bring?
Imagine opening up a small bottle and your life is changed forever.
If it were only that easy and true...
Well I'm here to tell you that success in the repair department may not be in an expensive bottle, but its close. If you compare the "high-fives" you'll get from telling your friends about your new lover to the cash you'll get from the repair department you'll find the shop will satisfy you more!
Back to the cologne...
Many of us guys had a hard time in high school asking out the prettiest of girls. "She wouldn't go out with me? What if she turns me down?" Not enough confidence.
Well a few splashes of Old Spice or Brut, walk right up to her and say "Hey Suzie, want to go to the show this Saturday? Really? GREAT! Pick you up at 8:00!"
All from a splash of Old Spice.
So easy...
That's how it is in the repair department. You'll get the prettiest or most handsome customer at full price.
"Hi Mrs. Jones, it's only $245 to install a new half shank on your mother's engagement ring. My best jeweler will do it for you. GREAT! We'll have it in a week for you."
Know why the cologne or perfume will work for you? Because it will make you feel sexy (even if you aren't).
Want to know why you'll get the price for repairs you ask for, 90% of the time?
Because repairs are not price sensitive they are TRUST sensitive.
Of course this doesn't mean you'll fix every piece of jewelry that comes in but typically 85-90% of repair customers will say yes.
Remember a few short years ago when gas was $2.00 a gallon? Now it's $3.60 or more. Don't like it, do you? Why does your gas station charge more? Because the price of oil has gone from $40 a barrel to $100 and every human knows it.
Why did a ring shank or lobster claw go up? Because the cost of gold went up and every human knows it. Unless of course they don't have TV, radio, newspapers or don't drive by one of the "We Buy Gold" signs in every store.
People know gold has gone up. If they want it fixed they will get it done. Even with higher gold prices shops doing custom are still busy.
You don't have to sell everyone in America, just the ones who want it done.
Your objective is not to size every ring or replace every lobster claw in town. Your job is to have a profitable shop and to do that you must strive to bring in 3 times your cost of the shop. After counting in freebies and do over's you'll get better than keystone.
So how do you splash on the "Repair Cologne"? Just say it. Ask for the money with confidence just like when asking the pretty girl or handsome guy to dance. As Julia Roberts said in Pretty Woman "I'm a sure thing", it'll happen for you.
The funny thing is as I talk to jewelers I find their success rate is 90% no matter what they charge
If 10 people walk in with a ring sizing and you charge $25 then 90% of the customers will say "OK".
If 10 people walk in with a ring sizing and you charge $30 then 90% of the customers will say "OK".
If 10 people walk in with a ring sizing and you charge $39 then 90% of the customers will say "OK".
You choose which one to charge and it'll happen. Because its trust driven.
Don't worry about "I don't want to over charge my customer." I know what the costs are and if you had QuickBooks setup the way I suggest you'd be able to see if you are getting keystone or not overall. You expect keystone from the showroom why shouldn't you expect it from the shop? Beside there's a chance some work will have to be done for free and the customers pay for that. You need the money.
So take a week and try raising your most common repair prices by $5 each Monday morning for a month and see what happens by the end of the month.
What you'll find is you'll be dancing with the prettiest girl; the most handsome guy and they'll be more than enough change in your pocket for soda pop and movies for 6 months!
Just as the perfume commercials promised you.
Sincerely,
David Geller
 - JewelerProfit | September 6th, 2012
(Proud husband of a pretty girl I asked out in high school)