Jewelry Business Insight
2nd Installment of LUEUR Show Opens Oct. 28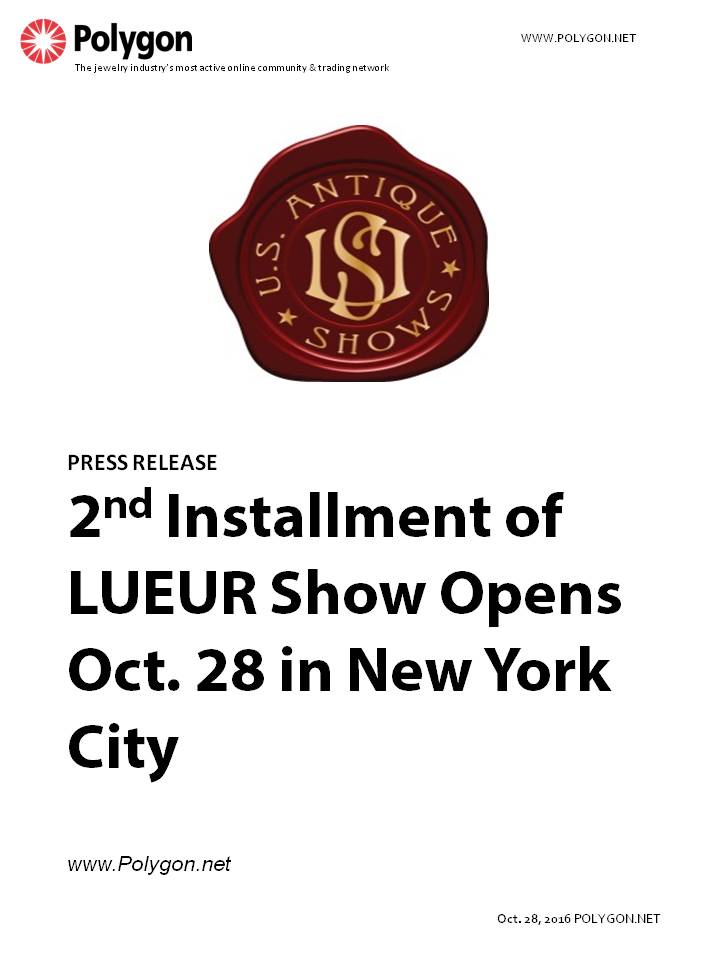 The second installment of the U.S. Antique Shows' LUEUR event is taking place at the Jacob Javits Center, October 28-31, 2016. At this open-to-the-public event, a highly curated group of the world's most renowned antique, estate and vintage watch and jewelry dealers will showcase prized pieces from a wide range of jewelry history periods, from Edwardian to contemporary. Attendees can expect to see an array of rare and collectable pieces from famous names such as Cartier, Tiffany & Co., Van Cleef & Arpels and Jaeger-LeCoultre, as well as one of-a-kind diamond, colored gemstone and pearl jewelry.
Polygon members benefit from free access to the show when they register online. Contact Polygon for the registration code.
Adding value to this event, Polygon will be hosting a trading session on Sunday, October 30 from 12pm to 5pm adjacent to the show floor. For more information or to register, contact Polygon at 1-800-221-4435 or info@polygon.net.
LUEUR will overlap with the JA New York Special Delivery show, also being held at the Javits Center, on Sunday, Oct. 30 and Monday, Oct. 31. The Special Delivery show (Oct. 30 – Nov. 1) is a cash-and-carry, fine jewelry trade event that traditionally brings in upwards of 5,000 retailers from across the globe.
Get a Free Tour
The jewelry industry's most active online community & trading network