Jewelry Business Insight
276 U.S. Jewelers Ceased Operations in Q3 2015: Jewelers Board of Trade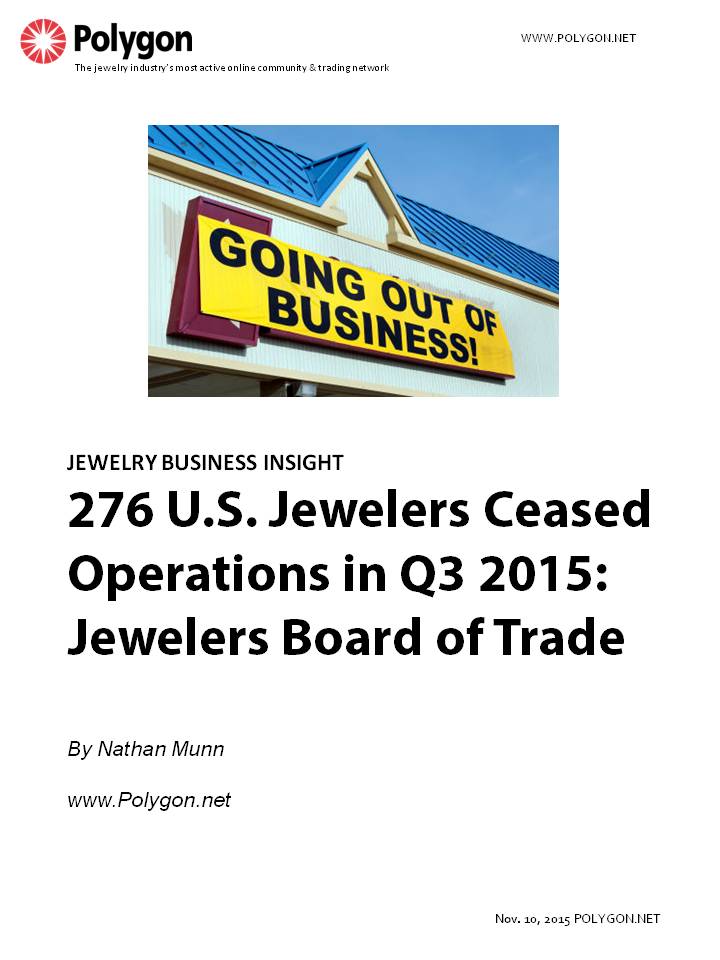 November 10, 2015 - A report produced by the Jewelers Board of Trade shows that 276 jewelry businesses in the United States ceased operations in Q3 2015, an increase of 25% year-on-year.
The 276 shuttered businesses included 237 retail jewelers, 31 wholesale jewelers and 8 jewelry manufacturers. In the first three quarters of 2015 retail jeweler closures increased 42% year-on-year, while 599 retail jewelry stores closed during the first three quarters of 2015 - up 30% from 2014, when 455 jewelry stores had closed by Q3.
Ironically, the number of U.S. companies entering the jewelry market in Q3 2015 also increased by 25%, with 74 new players becoming part of the jewelry industry in the third quarter of the year. In total, the number of businesses joining the jewelry sector has risen by 3.7% in 2015 so far, compared with the same period in 2014.
Another metric used by JBT to calculate the number of jewelers leaving the industry is the figure detailing U.S. jewelry business discontinuances. This number includes businesses that have ceased operations, undergone consolidation (meaning the business was sold or merged with another company) and companies that have declared bankruptcy. The total jewelry business discontinuances figure rose by 25% in Q3 2015, reaching 318. 2015 has seen 844 jewelry businesses discontinued in the United States in the first three quarters of the year, compared with 735 during the same period in 2014 - an increase of 15%, according to an analysis published by JCK Online.
One jeweler that declared bankruptcy in 2015 was Romano's Jewelers, a retail jewelry chain that operated several stores in California. After struggling with bankruptcy-related problems for several years Romano's entered into Chapter 7 bankruptcy in 2015. The business is now being pursued for almost $58 million in unpaid debts, spread across at least 79 claims brought against the chain by creditors. State and federal tax authorities are among the parties pursuing claims against the company.
In 2015, the owner of Romano's and two store employees were charged with 14 counts of identity theft relating to fraudulent transactions they allegedly charged to active-duty U.S. military members. A U.S. Marine was also charged with and ultimately convicted of bribery, conspiracy and fraud in relation to the case. 
Nathan Munn | Polygon.net
Get a Free Tour
The jewelry industry's most active online community & trading network