Jewelry Business Insight
21 New Jersey Retailers Cited for Violating 'Cash for Gold' Laws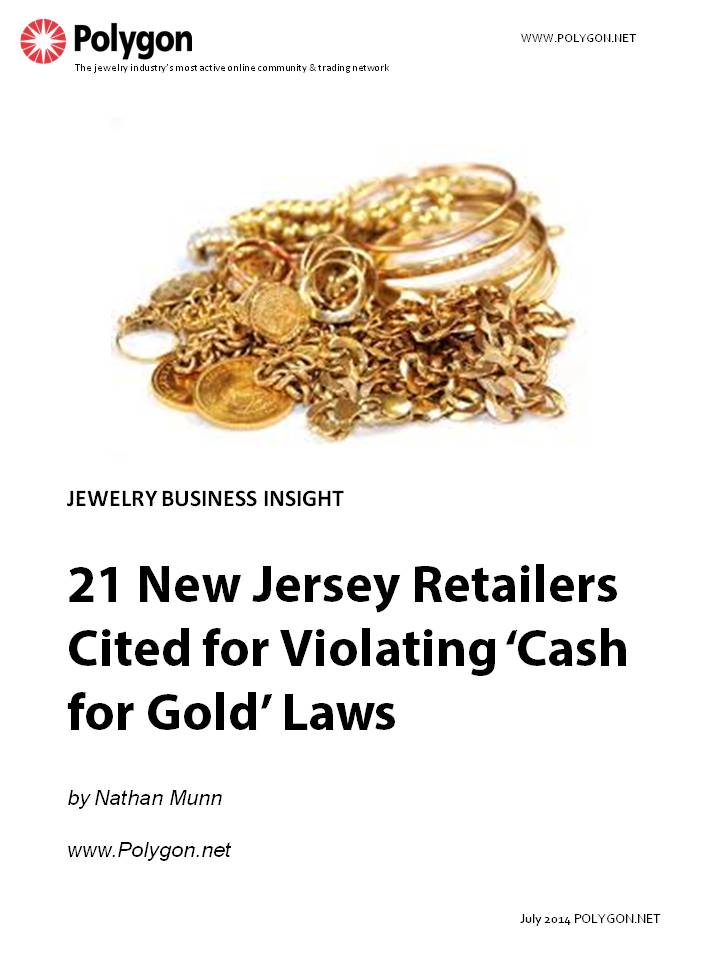 A year-long investigation by the New Jersey Division of Consumer Affairs has resulted in a total of 936 civil citations being handed out to 21 retailers offering 'cash-for-gold' services in the state. As well, criminal charges have been brought against two retail jewelers for allegedly dealing in stolen goods.
Since 2012, the state of New Jersey has conducted several high-profile sting operations against retailers suspected of violating state cash-for-gold laws, resulting in municipal citations being brought against 18 jewelers even before the most recent investigations were carried out.
In the latest investigation, the citations handed out resulted from a series of visits to the stores by undercover officers, who posed as customers seeking to sell jewelry. The offenses allegedly committed by the retailers include not properly displaying metal values, using scales not approved by the Office of Weights and Measures, failure to issue proper receipts, and failure to keep scales in plain view of the gold seller.
One of the retailers affected by the crackdown is International Gold Buyers, located in Edison, N.J. The store received a total of 209 citations, and owner Rakesh Loorkhoor was charged with receiving stolen property and criminal hindering. In an interview with MyCentralJersey.com, Mr. Loorkhoor stated that his store had only received 62 citations from the DCA, and that he "did follow the rules" regarding the buying of gold, adding that the issue would be straightened out in court. Mr. Loorkhoor said that his state-issued Office of Weights and Measures certification is clearly displayed in his store, and that police come to his store on a weekly basis to check receipts and identification.
The owner of another jewelry store in Edison, Robert Tudor, has also been charged with receiving stolen property; however, his store was not cited for any violations of cash-for-gold laws.  
Other stores that received citations are located in Plainfield, Union, Fairfield, Emerson, North Bergen and Jersey City.
Nathan Munn | Polygon.net
Get a Free Tour
The jewelry industry's most active online community & trading network