Jewelry Business Insight
Polygon 2018 News Roundup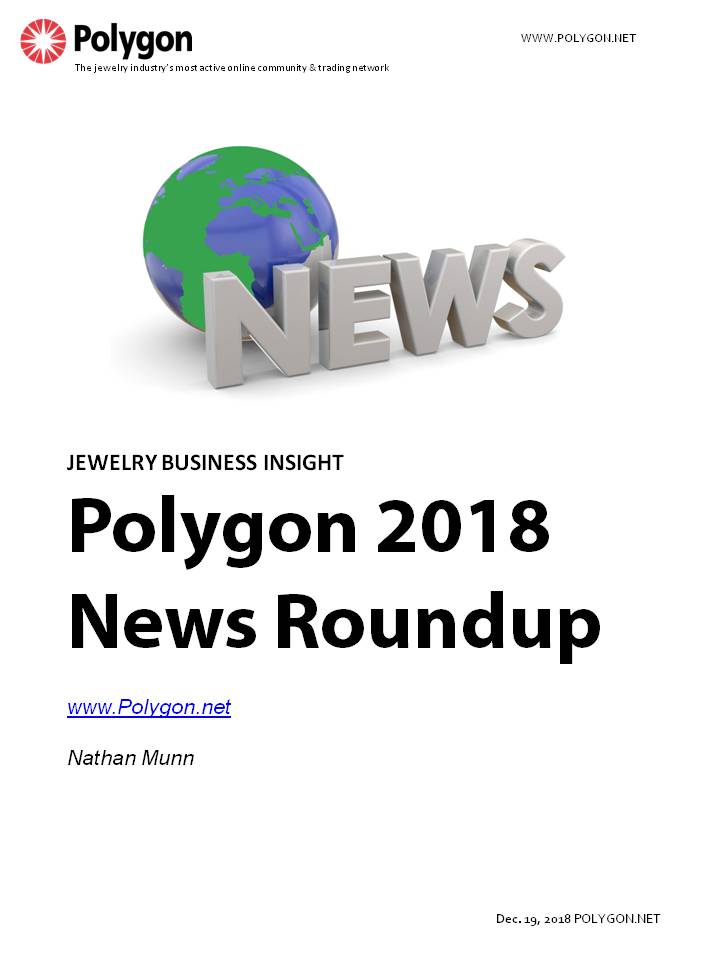 It's been an eventful year in the retail jewelry industry - so eventful, in fact, that you may have missed several important stories as they passed through the news headlines. Have no fear: we've assembled some essential stories from 2018 that you may have missed, and present them below to bring you up to date.
Signet Closures
Early in 2018, Signet announced that it would close around 200 of its stores this fiscal year, mostly in malls. The news was balanced by a simultaneous announcement that the company would open up to 40 new stores in non-mall locations. The closures included Kay, Jared and Zales stores, and were announced after Signet experienced two consecutive years of declining sales.
Signet has made significant efforts this year to pivot the company's business model toward a strong e-commerce offering, including buying online jewelry retailer JamesAllen.com.
Nirav Modi fraud story
Early in 2018, news broke that billionaire Indian diamantaire Nirav Modi had allegedly defrauded the Punjab National Bank (PNB) of what authorities now believe to be more than $2 billion using fraudulent letters of undertaking to siphon funds out of the institution. Modi and several employees of PNB have been on the run since before news of the fraud broke; all refuse to return to India, citing fears for their safety. Currently, Modi is reported to be in the United Kingdom, where he is said to be seeking political asylum. The alleged fraud represents one of the highest-profile instances of potential criminality ever discovered in the jewelry business: Modi's name graces storefronts from New York to Hong Kong and the brand counts several Hollywood stars as brand ambassadors.
De Beers Launches Lightbox
De Beers has chosen to address the increasing popularity of lab-grown diamonds head on by launching their own brand of synthetics, under the trade name Lightbox. In a canny move, Lightbox jewelry is being offered at significantly lower price points than natural diamonds, but also lower than current lab grown offerings on the market.
Lightbox is also selling their products directly to consumers, cutting out retailers and vendors in the supply chain.
De Beers Group CEO Bruce Cleaver noted that De Beers' research has suggested that diamond customers believe that lab grown diamonds should be "fun, pretty products [that don't] cost that much", and has strategically pointed the company's lab grown offerings right at the sweet spot in the market. The real long-term benefit, however, will likely be De Beers' positioning of lab-grown stones as both cheaper and less consequential than natural diamonds, a narrative likely intended to help the company protect the value of their core offering.
The Evolution of Lab-Grown
In October 2018, a jewelry company wholly owned by Warren Buffett's Berkshire Hathaway investment firm announced that their line of lab-grown diamond jewelry products will be launching in JCPenney and Macy's stores at a $500-$1000 price point. The marketing of the (mostly bridal) jewelry by the Richline Group is focused on appealing to customers who want to purchase 'ethical' products but still enjoy the luxury of diamonds, illustrating how major companies are betting that lab-grown diamonds and concerns about ethical sourcing have both become part of the mainstream jewelry customer's vocabulary.
While some retail jewelers question the viability of lab-grown stones for retail customers, ask yourself: Would Warren Buffett bet on a losing idea? (Editor's note: Don't count on it.)
Jewelry TV (JTV) has also announced that they will start selling lab-grown diamond jewelry. In November 2018, JCK reported that two new companies offering lab-grown diamond jewelry, also focused on bridal, had recently launched.
But if you're still not convinced that lab-grown diamonds are coming to a retail counter near you…
Signet Says 'Maybe' To Lab-Grown
Signet CEO Gina Drosos told analysts late in 2018 that the company is closely monitoring interest in lab-grown diamonds among the consumer segment, and that there may be a place for synthetics in SIgnet's offerings in the future. Drosos noted that while natural diamonds tended to be preferred by customers seeking bridal or other "really important" jewelry purchases, customers seemed to be more open to buying lab-grown diamonds as casual fashion jewelry.
Is Baselworld Losing Its Shine? And other Show Stoppers
In the fall of 2018, major watchmaker Swatch Group announced that it would no longer participate in Baselworld, the massive industry tradeshow held annually in Basel, Switzerland. Following on Swatch's heels, watch brands Maurice Lacroix, Raymond Weil and Corum have now pulled out of Baselworld as well, with the latter two brands citing the high cost of participating and a "lack of fresh ideas" at the show as their reason for abandoning, according to Instoremag. Baselworld has tried to stem the dissatisfaction by lowering fees for exhibitors, but so far the exodus seems to only be picking up steam.
In other news, the American Gem Trade Association (AGTA) show, which has traditionally been aligned with Reed Expositions, has jumped ship to join forces with Emerald Expositions. Moving forward, the AGTA show will be held as part of the US Antique Jewelry & Watch Shows during Las Vegas Jewelry Week.
Amazon is Coming for Jewelry Next
News broke late in 2018 that online mega-retailer Amazon has filed a patent application to trademark "For Keeps by Amazon", which will be used in relation to the "online retail sales of jewelry". But instead of screaming in terror, retail jewelers should instead develop strategies to counter Amazon's impending encroachment into the industry: organizing in-store events, offering custom design and repair services, and leveraging social platforms like Instagram and Pinterest to drive online engagement (and, ideally, foot traffic) are all proven tactics to draw customers, boost sales and improve loyalty.
From Online-Only to Bricks and Mortar
Online jewelry e-tailer JamesAllen.com, the parent company of which was bought by Signet in August 2017, recently launched a bricks-and-mortar concept store in the Georgetown neighborhood of Washington, D.C. The store features interactive displays and immersive technology including virtual-reality headsets and tablets to allow customers to browse jewelry. Signet CEO Virginia Drosos says the location is designed to align the digital and in-store experiences of jewelry customers; it also boasts an in-house coffee bar and area specifically reserved for customers to try on jewelry and share photos of their experience on social media.
Chinese Firm Buys IGI
Chinese investment firm Fosun International has bought up 80 percent of the International Gemological Institute (IGI), which operates 23 diamond grading laboratories around the world. The move could strengthen IGI's position as a competitor to the Gemological Institute of America (GIA).
New Jewelry Business Model
Direct-to-consumer jewelry brand Mejuri has raised $5 million in financing and will launch physical stores. Mejuri sold 150,000 pieces of jewelry last year and has pioneered the "drop model", which eschews seasonal collections in favor of weekly releases of new jewelry, each of which comes paired with its own unique narrative.
Hoover & Strong and Polygon Partner to Launch myAuction for Polygon Retail Jewelers
Hoover & Strong and Polygon have partnered to allow retail jewelers on the Polygon platform to auction off diamonds in a secure and transparent manner.
According to the press release, the myAuction service allows retailers to take in goods directly from customers and include them in a professional diamond auction. Customers have complete transparency, with the ability to follow their items and bids online in real-time. They also have final say when it comes to accepting or rejecting the final bid, which gives them not only total control, but also complete reassurance in the process.
Polygon and GemFind Announce Digital Marketing Partnership
Polygon.net has entered into a partnership with GemFind, a leading provider of digital marketing and e-commerce services for the jewelry industry. Under the partnership, GemFind will provide Polygon members with special pricing for web-related services including website design, social media management and SEO, while also making Polygon's Virtual Inventory service available to retailers. GemFind experts will be available to support members on the Polygon.net forums, and GemFind clients will have the opportunity to benefit from savings when they become Polygon members.
Nathan Munn | Polygon.net