Case Study
Polygon Profile Hess 2012 - Northeast Estate Jewelers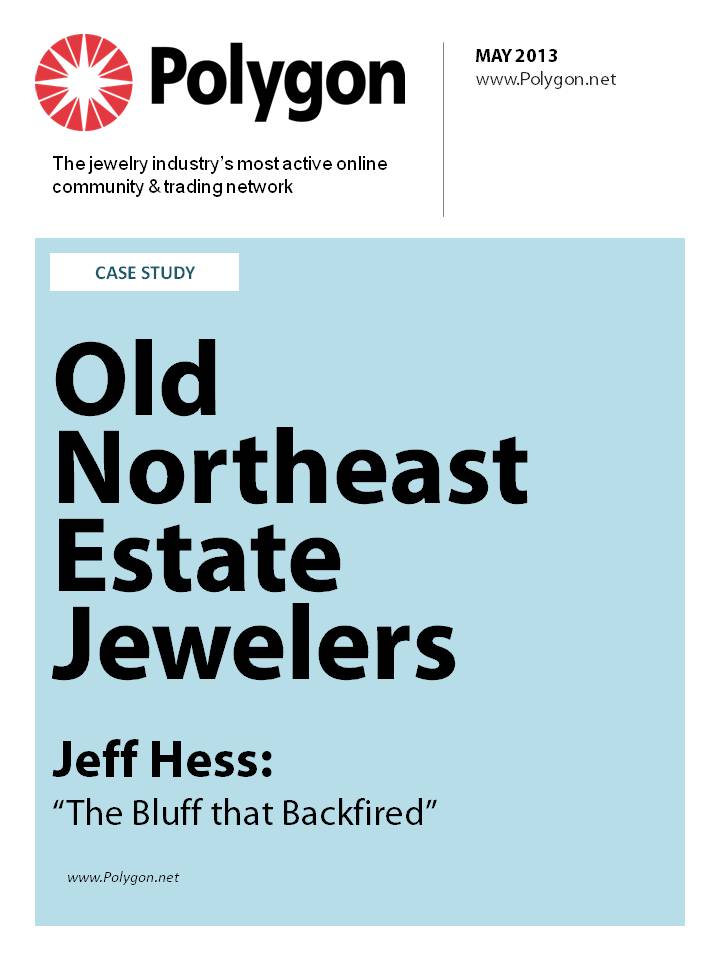 Retail Jewelry Business Increases Ten-Fold for Hess' Because of Polygon
Gaining the competitive edge
Tampa/St. Pete is considered to be one of the most cutthroat jewelry markets in the state, and the competition between stores is fierce. The Hess' have managed to stay ahead of the pack because they're smart, innovative, fast, and always able to quickly find what their customers need at the right price. Customer satisfaction and the growth of their business are due in large part to their membership on Polygon.
With trading activities generating millions of dollars in transactions every day, Polygon is industry's most efficient sourcing , selling and information tool for jewelry professionals. With Polygon, the Hess' are able to compete with mega chains as well as small local jewelry stores by connecting with hundreds of qualified jewelry , diamond, colored stone and watch wholesalers worldwide. This allows them to quickly locate whatever their customers need and get the most competitive pricing, whether it's a half karat diamond or a million dollar necklace. Their close ratio is close to 99 %.
Staying ahead of the pack
Polygon has allowed the Hess' to gain invaluable insight and knowledge that has directly contributed to their growing bottom line. Its unique community of successful independent jewelry professionals is ready and willing to share the secrets of their success. The Hess claim that Polygon has allowed them to "earn a PhD in jewelry."
"Whatever new products or styles are hot in the jewelry industry, you find out about them first on Polygon — because of the information channels. Plus you get the merchandise in your store, on memo, before anyone else in town is even aware of the new trend," says Jeffrey Hess.
Never turn a customer away
The profile of the jewelry market is evolving. Buyers are more and more savvy and price-aware . But rather than a hindrance, the Hess' use this to their advantage.
Jeffrey Hess recalls one example when, a while back, a local, well-heeled businessman was shopping for a large diamond: five carat, emerald cut, internally flawless. He went to a local competitor, who was able to find him a stone at a reasonable price. In fact, the jeweler was so sure no one could beat the offer, that he challenged the guy to find better elsewhere.
Unfortunately for the jeweler, the guy accepted the challenge. He visited a lot of stores without much luck. Then he came to the Hess' store.
"Most jewelers would have a hard time filling that call on the spot. Not us. I put the request out on Polygon and found the right stone within a few minutes. It was a better price, and we made the sale. Now the guy's a regular customer," says Hess.
This kind of thing happens all the time on Polygon, and is just one example of how the Hess' have used the network daily since joining in 1987 to help them grow their business over ten-fold.
About
Est.1984, 2 locations in St-Pete, FL
Specializing in luxury jewelry, large diamonds, expensive estate, fine art, authentic high-end watches
Authorized dealers for Ulysse Nardin, Breitling, Ball, Glashutte Original, Bucherer, Romaine Gerome, Tag Heuer, Muhle Glashuttte and many other brands
Approach: Using Polygon
Expand sourcing activities
Use forums to connect to other jewelry professionals and gain industry knowledge
Gain an outlet to resell OTC items
Results
Increased business ten-fold
Time saved by not having to call dealers one by one
Got best prices by quickly comparing thousands of items
Able to get items on the spot with customer in store
Grew customer base and regular customers
Close rate of 99%
"Honestly, I don't know how it's possible to stay alive in the jewelry business these days without Polygon. The power of this thing's incredible! We have nine employees, and there's a Poly terminal on each of their desks."
Jeffrey Hess, Owner
Polygon.net - Diamond Search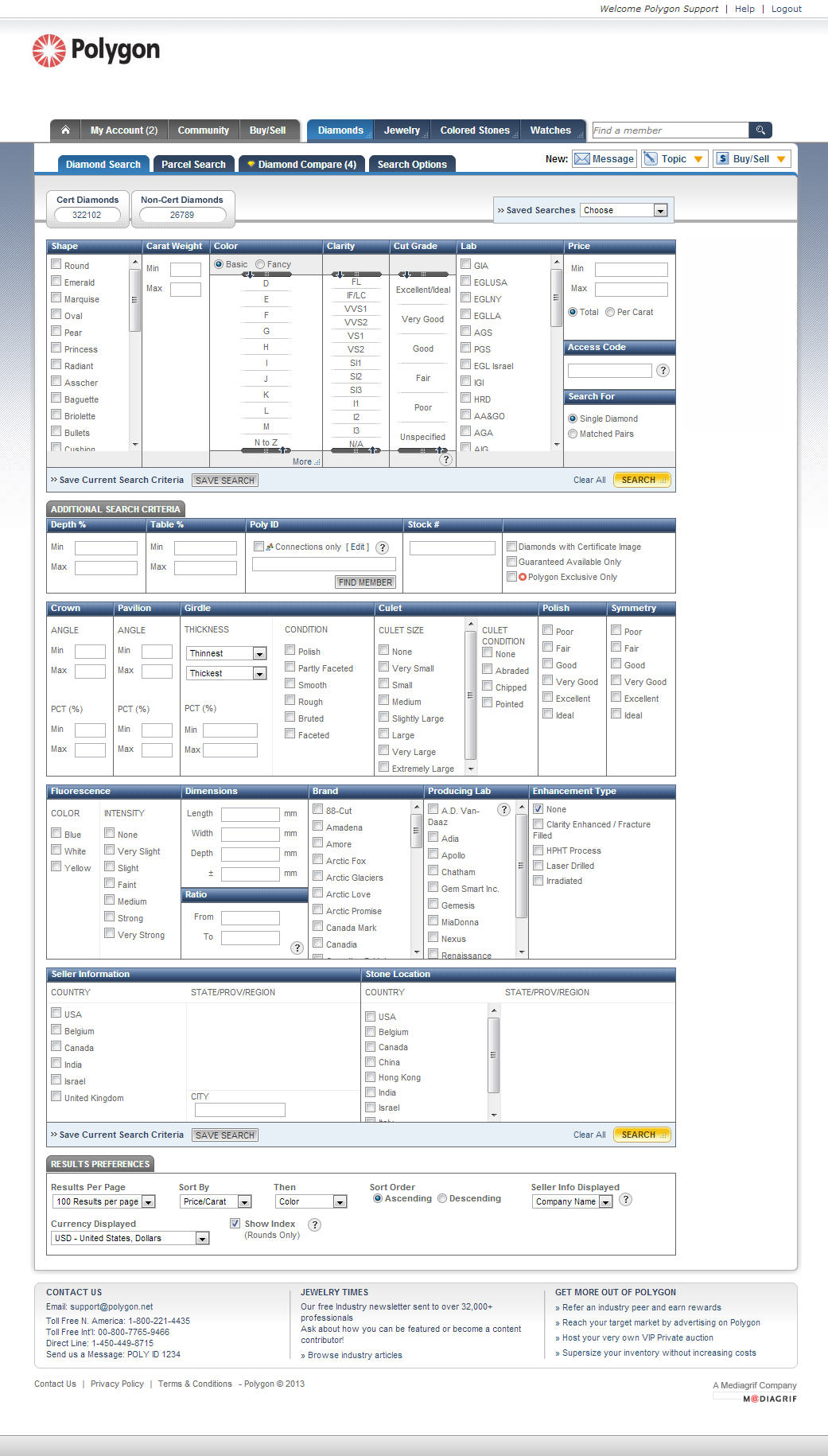 Polygon.net - Diamond Search Results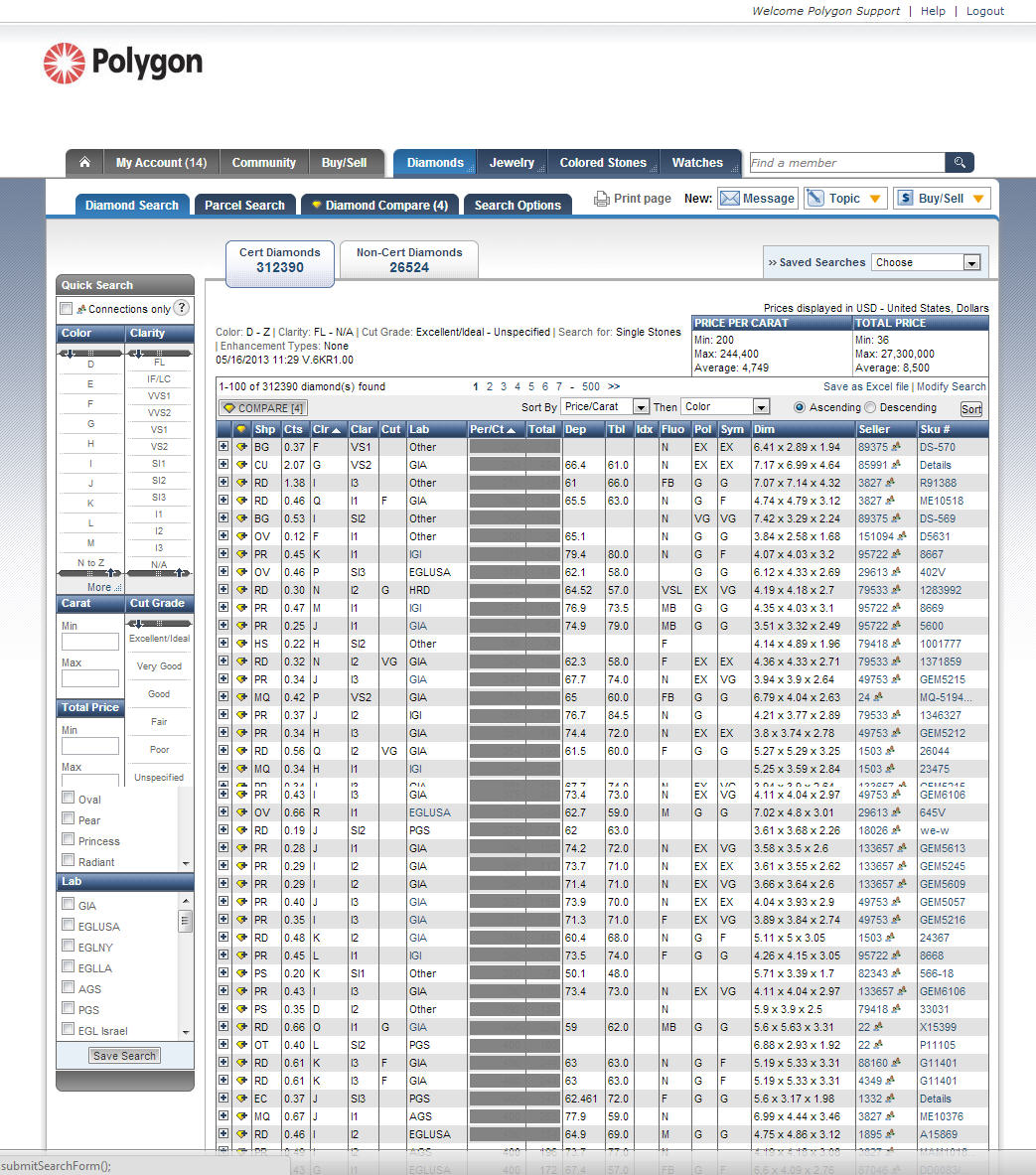 Polygon.net - Jewelry Search