Polygon Conclave & Trade Event 2017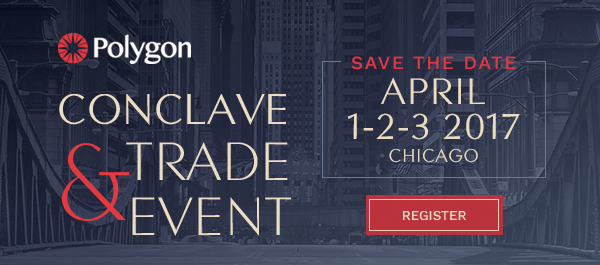 Polygon's Conclave & Trade Event will be held in Chicago from April 1st to 3rd, 2017. Gem & jewelry professionals are invited to attend.
This 3-day event is a unique combination of education, networking and business. Traditionally reserved only for Polygon members, this year we're opening up to other qualified, approved members of the trade.
Event Details
WHAT: Polygon Conclave & Trade Event
A 3-day event for qualified jewelry professionals that will feature seminars with expert speakers, a VIP breakfast, a dinner event, a reception and 2 days of action-packed trading at our show.
WHO: Only qualified professionals in the gem & jewelry trade may attend
WHERE: Chicago (inquire with Polygon for venue details)
WHEN: April 1, 2, 3 2017
Education and dinner: April 1
Trade Show: April 2, 3
Benefit from the opportunity to exchange with other forward-thinking business owners in the industry, and meet and do business with other jewelers, diamond, gem and watch dealers, jewelry designers & manufacturers, and others.
Get a Free Tour
The jewelry industry's most active online community & trading network
Success Stories
"Our sales are up. Our revenues are up. And our profits are up. The secret is Polygon."
Bernie Benavlez | Master Jewelers
Read more